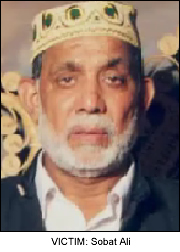 POLICE have arrested two men in connection with the murder of pensioner Sobat Ali.
Two men, both aged 17, from Walsall were arrested by police this morning on suspicion of manslaughter.
The two men are currently in police custody helping with enquiries
64-year-old Sobat Ali died after chasing after three men who robbed him of £2,500 worth of jewellery on his doorstep in Hart Street, Walsall on 2 January.
Police believe he suffered a fatal heart attack as he attempted to snatch the jewellery back.
Mr Ali's son paid tribute to his father saying his death had shattered his family.
"He was a very dedicated father and was always bringing a smile to our faces. He was very kind and down-to-earth," said Mr Khan.
Detectives last week released an e-fit of a man wanted in connection with the attack.
Related Articles: