Popular spin-off online show returns for second series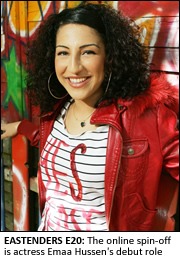 ACTRESS Emaa Hussen has landed her first acting gig – on BBC's online soap EastEnders: E20.
Hailing from East London, the talented actress has described her role as a "dream come true."
She is part of four new faces to land in Walford for the second series which will hit screens in September.
Emaa will play student Naz Mehmet who is described by insiders as "a girl torn between two worlds."
"To her friends she's a fun-loving party girl – at home she's the apple of her Turkish father's eye," an insider said.
Speaking about her new role newcomer Emaa said: "This is the first thing I've done professionally so it's a really exciting place to start my career. I'm from east London and a big fan of EastEnders, which is one of the reasons I wanted to do the show."
The 10-part series will transmit via the EastEnders website (running time 14 minutes each) followed by a weekly omnibus on BBC Three.
The spin-off show has proved a ratings hit for the BBC. Series one attracted over 3.3 million requests across the EastEnders website, BBC iPlayer and BBC Red Button. It has since been shown on BBC Three and received over a million viewers.
Series one introduced viewers to Leon Small (Sam Attwater), Arthur 'Fatboy' Chubb (Ricky Norwood), Mercy Olubunmi (Bunmi Mojekwu) and Zsa Zsa Carter (Emer Kenny), who all later made the transition over to the main soap.
Bryan Kirkwood, executive producer of EastEnders: E20, said: "EastEnders: E20 made a real impact the first time round and this second series is set to do the same.
"The show is a fantastic platform for young, aspiring writers and actors to set the agenda. The audience are in for a real treat as these four exciting new characters will arrive in Albert Square with a bang."