 Bollywood star fools co-star Kajal Aggarwal on the sets of 'Singham'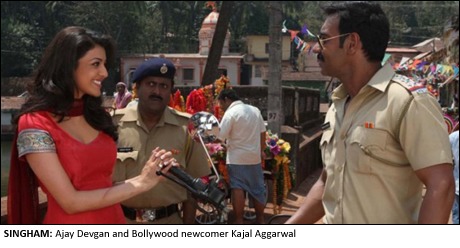 AJAY Devgn is famous in Bollywood for the innumerable pranks that he has played on his co-stars, directors and other crew members – and his antics on set for his latest film 'Singham' were no different!
This time around, his target was his pretty co-star Kajal Aggarwal from the forthcoming action blockbuster, 'Singham'.
News is that during the film's Goa schedule, the actor told the naive Kajal to thrash goons for a particular scene.
He made her believe that she was a modern day heroine and handed over a belt to lash out at the goons. Unaware of the actor's antics, the southern beauty innocently went ahead and gave the shot, with Ajay quipping "Maro Maro" in the background to encourage her.
It was only later when the entire unit started laughing that the actress realized what she had fallen prey to Ajay's prank and how the camera wasn't actually rolling.
A source on set told us: "Thoroughly embarrassed, the actress then went around apologising to all the people she had beaten up. Despite all the pranks, Kajal swears that she couldn't have had a better first co-star in Bollywood, and admired Ajay Devgn for his work and professionalism."
Paying homage to the age-old tradition of the Indian action film, Singham is scheduled to hit our screens on 22 July 2011.