 Player and board continue verbal battle over ICL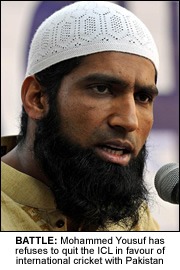 MOHAMMAD Yousuf and the Pakistan Cricket Board have continued their verbal battle over the status of ICL players in international cricket.
The 33-year-old was banned from representing Pakistan after he signed a three-year contract with the Indian Cricket League (ICL) last November.
Yousuf, ranked No.2 in the Test rankings, has expressed a desire to get back into the international fold but refuses to walk away from the ICL.
The previous Pakistan Cricket Board (PCB) administration banned all ICL players from international and domestic cricket after the International Cricket Council (ICC) and Board of Control for Cricket in India (BCCI) refused to officially acknowledge the ICL.
But in fresh developments earlier this month, a Pakistani judge temporarily suspended domestic bans imposed on ICL players by the Pakistan board.
Yousuf now wants the move extended to international cricket and has told the PCB they must challenge the ICC and BCCI over the status of the Indian Cricket League if they want him to return to international cricket.
"How can I break my contract with the ICL, which is for a period of three years," Yousuf was quoted as saying by Cricinfo. "If the PCB wants me to play for Pakistan they should resolve the matter with the ICC.
"I am a cricketer and playing cricket is my profession. I never wanted to be embroiled in court cases but the previous PCB set-up got me entangled in court cases, and now I am unable to represent my country."
But PCB chairman Iijaz Butt said they would only welcome Yousuf's return if he quits the ICL.
"If he quits the ICL, I will see he is selected again for Pakistan the next day," said Butt." I rank him alongside the Pakistani greats such as Imran Khan, Javed Miandad and Hanif Mohammad.
"I am willing to play Yousuf or any other player who breaks away from the ICL.
"We are bound by ICC regulations and we cannot select players as long as they have links with the ICL because the tournament is not legal in its home base which is India."