 PCB's Ashraf closes door on ICL players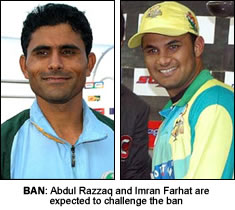 SIX PAKISTAN players who participated in the rebel Indian Cricket League last month have been told they will not play for Pakistan again.
Former captain Inzamam-ul-Haq, Imran Farhat, Azhar Mahmood, Shabbir Ahmed, Abdul Razzaq and Taufiq Umar took part in the tournament which began earlier this month.
Their position within Pakistan cricket had been under threat when they announced their involvement in the league earlier this year.
And Pakistan Cricket Board Chief Nasim Ashraf now looks to have sealed their fate after declaring the players have been banned from participating for Pakistan and from playing domestic cricket in the country.
"When those players signed up to play in the ICL and went to India to take part in that tournament they were fully aware of the consequences," Ashraf told the News.
"We were very clear about our policy about the ICL and they [the players] knew they would be automatically banned from playing cricket in Pakistan if they took part in the League. We have banned the players in line with the uniform policy adopted by all the leading boards around the world," he added.
But the decision was attacked by the players who will challenge the ban in the Pakistani courts.
Left-hand opener Imran Farhat said: "Cricket is our bread and butter. This is a violation of our fundamental rights.
"We will go to court and get a stay of order. They cannot stop us from playing even domestic cricket."
Farhat is expected to be joined in his protest against the ban by Razzaq, Shabbir and Taufiq.