 Ganguly aiming to make mark in 2008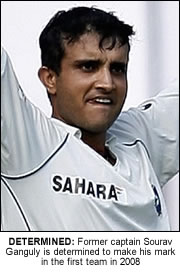 FORMER Indian cricket captain Sourav Ganguly has revealed he is determined to keep his place in the squad after forcing his way back in.
The 35-year-old found himself cast aside under former coach Greg Chappell when the two publicly fell out.
An e-mail in which Chappell criticised Ganguly's commitment to the team was leaked to the press in September 2005.
Things went from bad to worse for Ganguly just months later when he was stripped of his captaincy.
But having played a major part in India's recent matches he is now determined to secure his place in the squad for 2008.
"I'm more determined now," Ganguly told the Kolkata-based Telegraph. "I wish to add that the circumstances and the manner in which I got dropped just weren't right. I don't have an issue with being left out, that's part of the game, but the manner wasn't right."
"I want to continue being successful… The hunger hasn't died… Form permitting, I intend playing through 2008."
Ganguly can all but forget about that tough period of his career after he became only the seventh Indian player to reach the 100 Test milestone when he was selected for the opening Test match against Australia in December.
The player said he was honoured to reach his 100th Test.
"It's a huge milestone for any cricketer and not many in Indian cricket have achieved it", he said.
"Sunil Gavaskar, Dilip Vengsarkar, Kapil Dev, and among the current lot Anil [Kumble], Sachin [Tendulkar] and Rahul [Dravid]. So it will be good to join that club."