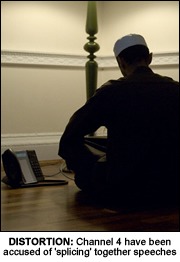 CHANNEL 4 has been reported to broadcasting regulator Ofcom over the way it edited speeches by Muslim clerics in an undercover programme on Islamic extremism in the UK.
The Dispatches programme 'Undercover Mosque', which was broadcast in January, took 10 months to complete and focussed on two Mosques in Birmingham – the Green Lane Mosque in Small Heath and the Jamia Mosque in Sparkbrook.
Visiting American cleric Abu Usamah was shown telling worshippers at the Green Lane mosque Jews and Christians were "enemies" of Islam and praising Osama Bin Laden.
West Midlands Police had launched an investigation in the aftermath of the programme but today they revealed they would not be prosecuting any of the individuals in the undercover documentary.
Instead they accused the broadcaster of "splicing together of extracts from longer speeches" which "completely distorted" what the speakers were saying.
ACC Anil Patani for West Midlands Police said: "As a result of our initial findings, the investigation was then extended to include issues relating to the editing and portrayal of the documentary.

"The priority for West Midlands Police has been to investigate the documentary and it's making with as much rigour as the extremism the programme sought to portray."

The police investigation concentrated on three speakers and their comments in the programme. CPS reviewing lawyer Bethan David considered 56 hours of media footage of which only a small part was used in the programme.
She accused programme makers of distorting speeches.
"The splicing together of extracts from longer speeches appears to have completely distorted what the speakers were saying", she said.

"The CPS has demonstrated that it will not hesitate to prosecute those responsible for criminal incitement. But in this case we have been dealing with a heavily edited television programme, apparently taking out of context aspects of speeches which in their totality could never provide a realistic prospect of any convictions."

West Midlands Police had also considered prosecuting the Channel for broadcasting material likely to stir up racial hatred but was advised against this by the CPS due to insufficient evidence.
Reacting to the news Channel 4 said in a statement:  "We believe the offensive views expressed by the people revealed in the programme speak for themselves.
"We didn't put these words into people's mouths and all extracts were carefully contextualised.

"The West Midlands Police have provided no evidence whatsoever to support their allegations."