 'It's a possibility', says grieving widow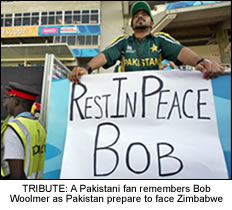 THE GRIEVING widow of Pakistan cricket coach Bob Woolmer has conceded her husband could have been murdered.
Gil Woolmer revealed it was a "possibility" her husband was murdered as reports of broken bones, poisoning and a match-fixing scandal flooded the world's media.
Police in Jamaica revealed they were treating his death as suspicious after an initial post mortem on the body of the coach proved inconclusive.
While Jamaican police continue to remain tight-lipped until a second post mortem on the body of Woolmer is undertaken, leading Jamaican newspapers reported this morning that some of the bones in his neck had been broken and there was bruising around his throat all pointing to signs of strangulation.
Speaking to Sky News, Woolmer's grieving widow said there was a "possibility" her husband was murdered.
"Some of the cricketing fraternity, fans are extremely volatile and passionate about the game and what happens in the game, and also a lot of it in Asia, so I suppose there is always the possibility that it could be that," she told Sky News.
"It fills me with horror, I just can't believe that people could behave like that or that anyone would want to harm someone who has done such a great service to international cricket."
She also rejected some reports that suggested Woolmer had died of a drugs overdose or had committed suicide after his team's disastrous exit from the World Cup.
Mrs Woolmer revealed she had received an e-mail from her husband after the result against Ireland where he had admitted he was disheartened at his teams exit.
She also said she had been given "some indication" why the police considered the case suspicious, but refused to give more details.
The Jamaican Gleaner quoted a "high-ranking police officer" who had revealed that Woolmer had been strangled. . "A bone in the neck, near the glands, was broken, and this suggests that somebody might have put some pressure on it," the officer told the newspaper.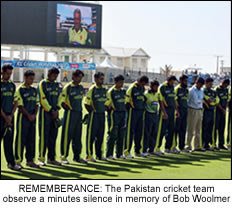 The Jamaica Observer also quoted unnamed sources close to the investigation as saying that bones in the lower part of Woolmer's face were broken, suggesting he had been strangled.
In other reports, former Pakistan bowler Sarfraz Nawaz has claimed a group of international criminals known as the 'Match-Fixing Mafia' were behind Woolmer's death.
Speaking to reporters yesterday he said: "I've been saying this for the last four days – that his death is not natural, but it's murder.
"Woolmer's death is connected to the Match-fixing Mafia. The theory going around in West Indies police circles is that Woolmer may have been killed by those who wanted to silence him on the issue of match-fixing."
Several members of the Pakistan team have been questioned over Woolmer's death and it is uncertain at this stage whether they will be allowed to leave the country as planned on Saturday.
Forensic teams are still combing through Woolmer's hotel room. . It is believed that there were pools of blood in the room and there were suspicions over vomit found high on the walls. Police refused to confirm or deny reports that marks had been found on Mr Woolmer's throat.
The forensic team left carrying several bags of evidence and a senior officer said the room was being treated as a "potential crime scene".
In their final game in the World Cup the Pakistan team dedicated their win over Zimbabwe to their former coach.
"We dedicate this game to Bob because he was a wonderful person", said Inzamam who announced his decision to retire from one-day internationals and step down as captain after the Ireland loss.
"He's not in this world now and every Pakistani and every cricket lover is sad", he added.
Meanwhile the Pakistani government announced it will grant Woolmer one of its most prestigious civil awards
Pakistani President Gen. Pervez Musharraf said that Woolmer would be posthumously granted the Sitara-e-Imtiaz, or Star of Excellence, in recognition of his contribution to sport, the state-run news agency Associated Press of Pakistan reported.
"Pakistan Cricket shall forever be indebted to his services and this nation will always remember him for the joys he brought into the lives of millions of Pakistanis," Musharraf was quoted as saying in a condolence message to Woolmer's wife Gill.
"We shall all greatly miss him. The cricketing world and Pakistan, in particular, will find it extremely difficult to fill the void Bob's death has left behind."
Related Articles