 Police warn Harpreet Singh should not be approached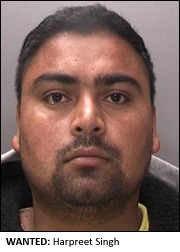 POLICE are hunting an illegal immigrant suspected of attacking a man with a cricket bat a year ago.
Harpreet Singh is suspected of attacking a 29-year-old man in Birmingham Sparkhill's Ladypool Wine Cellar with a wooden cricket bat on 3 April 2012.
The victim suffered a fractured cheekbone and three broken ribs.
Singh, who is an illegal immigrant and who has no fixed address, is believed to travel around looking cash-in-hand for work.
He has links to Birmingham, Wolverhampton, Ealing, Southall, Hounslow, Bedford and Luton.
Officers have been trying to track down Harpreet Singh since he was identified as a suspect following a review of CCTV footage.
Despite numerous arrests attempts, he has not been found.
He is known to be violent, so should not be approached and anyone who sees him should call 999 immediately.
Anyone with information about his whereabouts is asked to call police on 101 or the independent charity Crimestoppers anonymously on 0800 555 111.