 New Pakistan coach backs fast bowler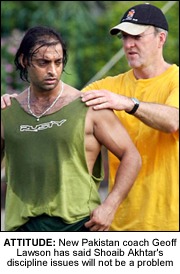 NEW PAKISTAN coach Geoff Lawson does not see fast bowler Shoaib Akhtar as a 'problem' as he looks to begin his new role.
Akhtar was fined $5000 earlier this month after walking out of a training session and failing to attend a subsequent disciplinary hearing.
He appealed against the decision and is set for a showdown with the Pakistan Cricket Board in a forthcoming hearing which will look into two charges of indiscipline.
But Lawson, who arrived in Pakistan on Monday to officially begin his role as Pakistan coach, said he was not worried about the player's attitude.
"Coaches have problems with the attitude of the players and this goes back to 700BC and it's nothing new", he said.
"I don't see Akhtar as a problem. I am a fast bowler first so I will have to deal with that."
Lawson's first major tournament will come next month in the Twenty20 World Championship in South Africa.
He said he would be looking for his team's "killer instinct" in the tournament.
"Any side that wants to be world's best needs aggression, the killer's instinct and must play to its strength and that's what I would be looking at," Lawson told a press conference.
"Let me say I am thrilled and honoured to be here and meeting with the players. The enthusiasm among the players is outstanding and they are eager to do well."
Lawson also played down the affect of Inzamam-ul-Haq, Mohammed Yousuf, Abdul Razzaq and Imran Farhat's decision to join the Indian Cricket League.
But he echoed the views of the PCB in admitting he would love for Mohammed Yousuf to change his mind.
"I feel there would be no direct reflection of the players joining the league because players make their decisions but I would certainly hope Yousuf has a change of mind. Yousuf is a fine player and he is not only worth it for his runs but also for his influence on the younger players," he said.

Pakistan face Scotland in their first Twenty20 World Championship match at Durban on September 12 before taking on India at the same venue two days later.