 Results Continue to Rise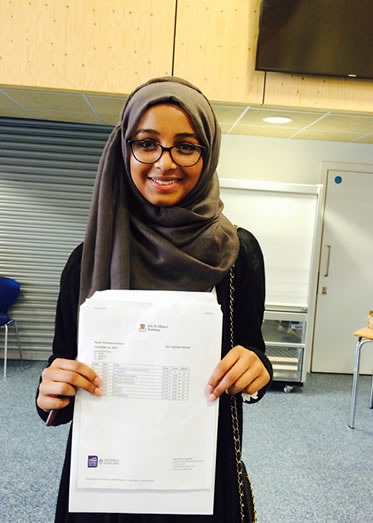 PICTURED: Fardowsa Ahmed with her results
Students at Ark St Alban's Academy in Highgate and Ark Kings Academy in Kings Norton are celebrating their best set of GCSE results yet with the number of students achieving five A*- C grades, including English and maths, reaching 51% at Kings, up 5% on 2014, and 65% at St Alban's.  Both schools have seen GCSE results more than double since joining the Ark network in 2009 and 2012 respectively. 
Student progress is now significantly above the national average at Ark Kings Academy with 87% of students making expected or better than expected progress in English, and 73% in maths – 62% of students achieved grades A* – C in these core subjects.  There were also notable successes in Art with 92% of students achieving A* – C, 77% in Science and 70% in ICT.  
Success for Sufiyan
Ark Kings Academy student Sufiyan Aziz is celebrating after getting six A*s and four As at GCSE.  He is the first student at Ark Kings to get Further Maths GCSE and is going on to study A levels in Biology, Chemistry Maths and Further Maths at sixth form college.  Sufiyan hopes to go on to study Medicine at University.
"I'm really proud – and really happy.  I'm amazed – this is good!  All of the hard work has paid off.  I've always wanted to be a doctor and this is the first step.  My family are going to be really proud when I tell them!" 
Roger Punton, Principal at Ark Kings Academy, said:
"Once again our students have shown real determination and commitment in their studies and I am delighted that so many of them have done so well.  Our results are climbing year on year and with work on our new school building starting next month I can see a very bright future for Ark Kings Academy.  Every one of our students is going on to further study, or has secured an apprenticeship or employment, and I know that each and every one of them will thrive.  I wish them all the very best for the future." 

Results at Ark St Alban's Academy continue to be on the rise with 84% of students achieving grades A* – C in English, and an impressive 45% of students attaining the EBacc standard, an 11% increase on last year and nearly double the 2014 national average of 24%.  It was another strong year for mathematics with 80% of students achieving grades A* – C and 97% in ICT.  Overall 65% of students achieved at least five A* – C grades including English and mathematics.
Fardowsa Ahmed is St Alban's 'star' student and was amazed with her results:
"I got 10 A*s and one A – I can't believe it!  I really didn't expect to get these grades".
Fardowsa is going on to study Geography, Chemistry, Physics and Maths A level at Ark St Alban's Academy Sixth Form.
David Gould, Principal at Ark St Alban's Academy, said:
"I continue to be very proud of the achievements of our students, and grateful for the support of their parents, and the unwavering dedication of the staff at Ark St Alban's Academy.  It is only through collective determination and hard work that our students achieve great things in the classroom and beyond.  Many of our students will now join our sixth form which celebrated its first year of excellent A level results last week and we will be delighted to see them further their studies and achieve even more.  I want to congratulate all of our students on their results which are our best yet and wish them all the very best in their future".