On the day of Holi, the Hindu festival that celebrates Spring, love and new life the award-winning hotel on Five Ways island has revealed their plans for the new Indus restaurant in a blaze of colour. The bar and terrace will remain, but the restaurant will be transformed into an oasis of upmarket dining to replace the current 1565 restaurant.
Park Regis new restaurant offering 'Indus' has been inspired by a love of India. A little-known fact is that the name 'India' originated from the name of the Indus River that ran through the Asian sub-continent.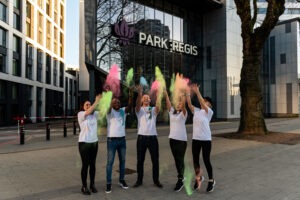 The Indus chefs have taken inspiration from their native homeland and been inspired to elevate their favourite dishes. Lovingly put together with freshly ground spices, great produce and authentic cooking techniques, they have evolved and adapted the best of Indian cuisine and made it truly special.
Indus offers a menu flowing with traditional dishes that explores pan-Asian flavours synonymous with this majestic sub-continent. The menu will take you on a culinary journey across northern India, exploring the richness of tastes, contrasts and textures of the region with centuries of tradition.
Head Chef Manish Patel brings his experience of working in five star hotels in India to create a menu offering a mouth-watering choice of vegetarian and non-vegetarian dishes on its extensive menu.
Supported by his skilled tandoor chef, Manish uses his special arsenal of family spices and years of traditions handed down from generations to create a special bespoke menu designed to rouse the more sophisticated palate.
Chef's Signature Dishes will include Indus Haddi Wala Ghost (mutton on the bone slowly cooked in a rich almond, onion and aromatic spices) and a delicately flavoured Goan Machhi (spicy goan fish curry simmered in coconut milk and toddy vinegar).
Levi Bailey, Hotel Manager says, "Our restaurant celebrates the traditions, life and culture of India and its bounty of beautiful flavours, aromas and spices through our specially curated menus of magnificent dishes."
Indus welcomes you to share their passion and enjoy an unparalleled dining journey.
For more information and to book the Park Regis Hotel visit: www.parkregisbirmingham.co.uk