 Gabhru Panjab De Performed at Halftime for Leicester Tigers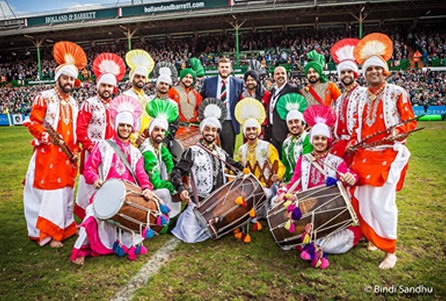 Dance group from West Midlands 'Gabhru Panjab De Bhangra Dancers' (GPD) were invited to perform in front of a crowd of 24,000 at the Leicester Tigers vs. Northampton Saints game and launch the Leicester Tigers Foundation's new 'Nach Nach Tigers' program on Saturday 16th May 2015 at Welford Road stadium. GPD entertain the fans during the pre-match, walking Leicester Tigers onto the pitch and performance during the half time. 
Gabhru Panjab De, the winners of the UK Bhangra Awards 2014 as the 'Best Dance Group' is UK's most respected Bhangra dance group, they have been dominating the entertainment industry since 1988 through Bhangra music and dance, leaving audiences wowed and completely spellbound.
Aki Sandhu (GPD Manager/Vice-Chair) said, "This was a highly anticipated final home match game of the year for Leicester Tigers and the league leaders Northampton Saints. It was an honour for Gabhru's to perform at the Stadium, the atmosphere was amazing and electrifying! GPD have been at the forefront of Bhangra for the last 27years and growing from strength to strength."
Leicester Tigers beat Northampton Saints 22-14 to secure a play-off away to Bath. Saturday's game was a sell-out and live coverage of the match was shown on BT Sport 1.
Scott Clark, Tigers Foundation Trusteesaid –"We're very excited to have Gabhru Panjab De dancers leading our entertainment on the most important game of the season to get the fans energized ahead of kick off and at half time. GPD's energy is also going into promoting the new Nach Nach Tigers Inner City Leicester program that the Leicester Tigers Foundation are aiming to launch in September 2015 through the Aviva Community Fund.  Nach Nach Tigers will see music, rugby and dance fuse to promote healthy living, sports participation, and give inner city communities the chance to come together at the home of the Leicester Tigers."
Bindi Sandhu (GPD Chairperson) said, "Gabhru Panjab De Bhangra Dancers continue breaking down dance barriers, our dancers, singers and musicians thoroughly enjoyed entertaining the Tigers fans and launching the Leicester Tigers Foundation's new 'Nach Nach Tigers' program at Saturdays game. The aim of the program is to run structured Bhangra dance and music workshops at Schools across Leicester with an introduction to Rugby also at each school. Today GPD are considered as the ambassadors of Bhangra in UK, with numerous performances around the world and many accolades to show for our hard work and dedication. GPD look forward to working with the Leicester Tigers Foundation in delivering the Nach Nach Tigers programme to help bridge the gap between the Indian community and professional rugby in Leicester city."
Gabhru Panjab De's Gabhru Academy run weekly Bhangra dance classes every Friday between 6.30-9.00pm at Holly Lodge High School, Holly Lodge, Smethwick, West Midlands B67 7JG. The classes are open to people of all ages, backgrounds and both genders.