 Pakistani Spin Bowler Suspended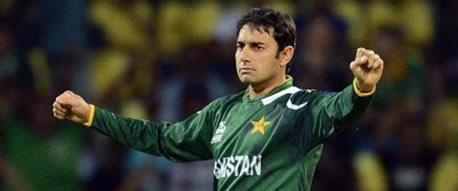 On 7th September 2014, the ICC's Reliance ranking system re-confirmed Pakistan's Saeed Ajmal as the best ODI bowler in the world. With 183 wickets in just 111 ODI matches and 782 rating points, the 36 year old off-spinner was looking forward to representing his country against Australia and New Zealand in the coming few months and was marked as Pakistan's main bowler for the 2015 World Cup to be held in Australia/New Zealand. Ajmal had earlier been cited for an illegal action by match officials at the conclusion of the 1st Test match at Galle in Sri Lanka and later went for tests in Australia organized by the ICC.

The ICC duly declared Saeed Ajmal's action as illegal on the 9th of September, stating that the analysis had revealed that "all his deliveries exceeded the 15 degrees level of tolerance permitted under the regulations". He has now been suspended from bowling in international cricket with immediate effect, but is allowed to apply for re-assessment after he has modified his bowling action.
The news of this ruling by ICC caused a major uproar amongst fans and experts alike, and former Pakistan off-spinner, Tauseef Ahmed who has himself represented Pakistan in 104 matches and picked up 148 international scalps, also joined in the chorus of disapproval and shock which has met this decision.
Tauseef, like many admirers of Ajmal was astounded by the speed at which the ICC moved to test and condemn the player and felt that there are sinister motives behind this move which was meant to put a stop to Ajmal's stellar career.

"Pakistan does have a problem if he is not allowed to bowl and it would have been better if we had ready-made replacements for Saeed Ajmal but that clearly is not the case, he said. I would be surprised if you can ever find a bowler of his class whether in Pakistan or around the world as such talents are very rare. Again, all is not lost as we do have some spinners in the domestic scene who can help out in this case, such as Atif Maqbool or Adnan Rasool but none really can ever replace a bowler of the calibre of Saeed Ajmal. Having said that, we would be happy if they can achieve even half of what this bowler has done and in that regard, this a tough ask for any other bowler. All said and done, the best outcome for Pakistan is for Saeed Ajmal to work hard and emerge stronger from this crisis", he concluded.