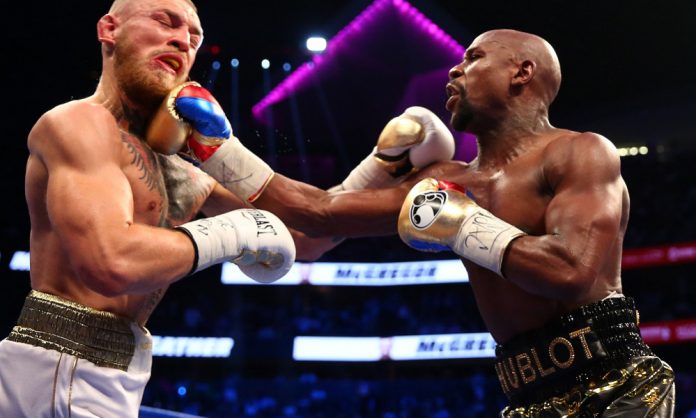 The "superfight" between Floyd Mayweather and Conor McGregor missed out on setting the record for ticket revenue at a boxing event.
The bout, which took place on 26th August at Las Vegas' T-Mobile Arena and was won by Mayweather by TKO, generated $55.4m (£42.5m).
That figure has now become the second-highest boxing gate ever, behind the initial target of $72.2m (£55.4m), which was set in 2015 at the MGM Grand Arena, Las Vegas when Mayweather fought Manny Pacquiao.
Figures for the pay-per-view television sales are yet to be announced for the fight, in which Mayweather stopped the Irishman in the 10th round. Those numbers are also anticipated to tackle the record set by the same fight at 4.6million buys.
Stephen Espinoza, executive vice president at Showtime, said that if the broadcaster sees the growth in numbers it expects as final pay-per-view figures come in from territories, the record will be broken.
In total, revenue produced from gate receipts, pay-per-view sales, sponsorship and merchandising could potentially take the bout past the $620m (£475.4m) haul earned by Mayweather-Pacquiao. That would make the fight the richest in history.
However, missing out on this record is not a good start so far as setting records goes.
Floyd Mayweather said, in his post-fight press conference, that the record had been surpassed.
13,094 tickets were sold, according to figures provided by the Nevada State Athletic Commission (NSAC), who sanctioned the bout. 137 were given away as complimentary tickets, taking the total attendance to 13,231.
Mayweather Promotions stated the attendance was 14,623.
T-Mobile Arena's capacity for boxing events is 20,500.
Floyd Mayweather is a common feature at the top of the gate-receipt records list. Only the fifth entry on that list, Lennox Lewis' win over Evander Holyfield, does not feature his name.