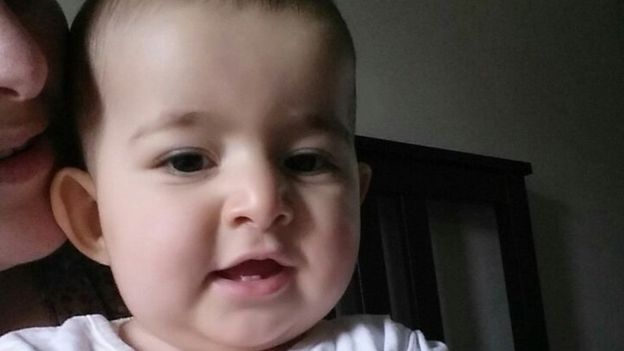 Investigations have been prompted after the death of a nine-month-old girl at Birmingham Children's Hospital.
Sada Hamza died at the Steelhouse Lane hospital on 30 July after being admitted 24 hours earlier.
Mother of the baby, Sakar Hussein, said she repeatedly warned of her daughter's difficulty breathing but was ignored.
Clinicians raised concerns and now an investigation has been launched, the hospital confirmed. One member of staff said Sada should have been taken to intensive care earlier.
Mrs Hussein, from Handsworth, Birmingham, said she took her daughter to the hospital at 19:30 BST on 29 July after she started to have breathing problems. She described Sada as being healthy previously.
Sada was seen by a doctor at the hospital the following morning and was prescribed antibiotics.
However, the ordered medication was not given until three hours later, according to Mrs Hussein.
The mother said that she recorded her daughter's breathing, which she described as becoming increasingly erratic during the day, on her phone.
"The nurse came in, but was just recording what the machine was telling her," she said.
"I was pleading with her to look at my daughter. Her lips had gone blue and she was even biting her tongue because she was desperate to get air."
Around 24 hours after Sada's admission, breathing difficulties grew and she had to be resuscitated.
Mrs Hussein said that she believed something went wrong during the process as Sada's stomach became distended.
After this, Sada was taken into intensive care where she was pronounced dead.
Fiona Reynolds, medical director who treated Sada, told the mother her "gut reaction" was that her daughter should have gone to intensive care earlier.
"The death of any child in our care is incredibly devastating and when this happens we investigate the circumstances to find out if anything further could have been done by our teams to prevent this happening and to provide answers for families," said Dr Reynolds in a statement.
"This is currently taking place in this case after concerns raised by our clinicians and Sada's family."
Dr Reynolds also said that the investigation would also include a look at staffing levels on the Sunday as well as the time taken to admit Sada to intensive care.
An inquest is scheduled for November.