 Race on to appoint successor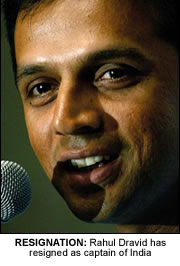 RAHUL Dravid has shocked Indian cricket after resigning as captain of the national side.
The 34 –year-old informed the Board of Control (BBCI) just hours before India take on Pakistan in the ICC World Twenty20 in South Africa.
In an official letter sent to the BCCI Dravid, who opted out of the World Ternty20 Indian team, revealed he wanted to concentrate on his batting and requested to be relieved of his captaincy ahead of India's forthcoming tests against Australia and Pakistan.
Niranjan Shah, secretary of the Indian board, said Dravid met Sharad Pawar, the board president, in New Delhi yesterday. "He expressed his desire to step down as captain of the Indian team and requested that he should not be considered for the job from the ensuing Australia series," Shah said.
The board, he said, did not try to dissuade Dravid, who wanted to concentrate on his game. "A player has to decide for himself", Shah said.
India, scheduled to play Pakistan later today in the ICC World Twenty20, will now look to appoint Dravid's successor before the start of their next series against Australia on 25 September.
With current vice-captain Yuvraj Singh the obvious frontrunner, former captain Sourav Ganguly and Mahendra Singh Dhoni, captain of the current World Twenty20 team, all look to be in contention.
Dravid took over as captain two years ago from Ganguly. While his record in Tests is very impressive – eight wins including Pakistan, West Indies, Bangladesh and England – his ODI record is less than impressive. He was criticised for India's dramatic early exit from the World Cup earlier this year and lost to England in the NatWest series last month 4-3.