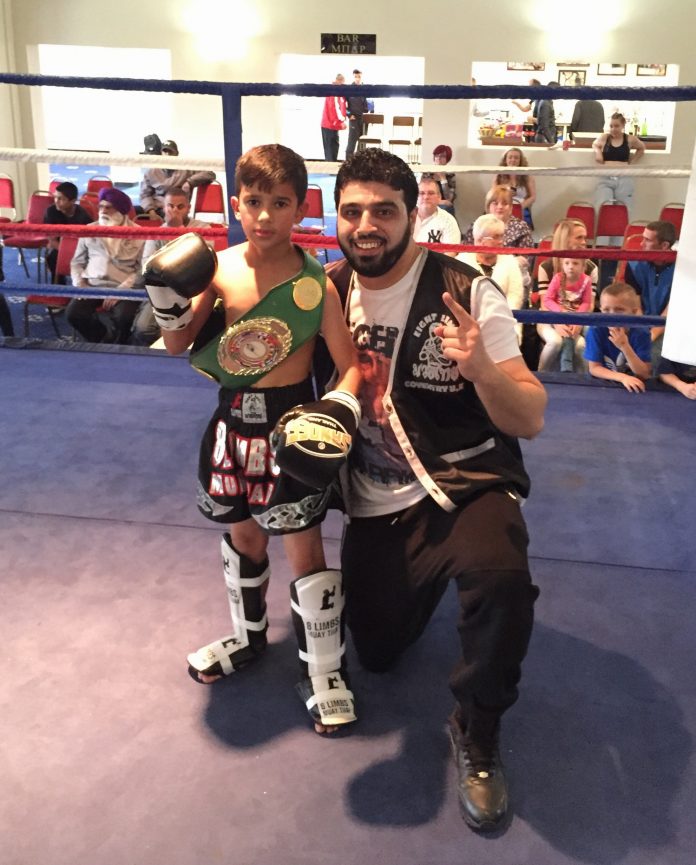 October saw Coventry youngster Muhammad Abu-Bakr challenge for the WKU Commonwealth Championship in Muay Thai, following from his June win for the European Championship he took on Newcastle-based competitor Harvey Lampang in a 5 round fight in Birmingham.
The 1st round was quite even and saw both 8 year olds feeling each other out with effective punches, kicks and knee strikes.
The 2nd round was a lot closer, the 3rd, 4th and final round saw Abu-Bakr up the pace, taking control of the fight completely, leading to the judges awarding the WKU Commonwealth Championship to Abu-Bakr
A great win and accomplishment for the junior, head coach Raf Hussain of 8 Limbs Muay Thai said:
"Instructor Raf Hussain said "I am extremely proud of Abu-Bakr, at such a young age he has achieved so much and I am really hopeful he will be world champion very soon, the sky is the limit."
"Abu-Bakr is now in a position to compete for a world title and we will be looking at this for early 2016".
Muay Thai is the national sport of Thailand that consists of punches, kicks and standing grappling with knee strikes.
Muhammad Abu-Bakr started training in Muay Thai at the age of 5 at 8 Limbs Muay Thai Martial Arts Academy in Coventry City Centre under his instructors Raf Hussain and Rad Staszak.
He has won numerous English and British championships and won a major junior tournament in April, to be crowned the UK No1 at 8 years old -25kg and was shortlisted for male fighter of the tournament.
Abu-Bakr will be scheduled to compete again later in the year.