 Police releases CCTV image of suspect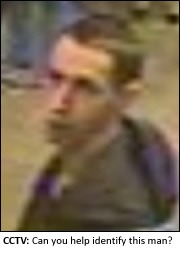 POLICE are hunting for a man who ripped off a Muslim woman's face covering in a busy shopping centre.
The 26-year-old victim was left shaken following the incident which occurred just after 2pm at Solihull's Touchwood shopping centre on Saturday 3 March.
The victim had just walked past the Disney store, when it is alleged the man captured on camera approached her from behind, took hold of her head and removed her face covering.
As her attacker walked away, he threw the material on the floor and left the shopping centre.
Although physically unharmed, the woman was left severely shaken by the incident.
Now police have released CCTV images of the man and have urged anyone who recognises him to get in touch.
Chief Inspector Kevin Doyle, from Solihull police station, said: "Reports of crimes like this are exceptionally rare both in Solihull and the wider West Midlands.
"We are treating this incident as a hate crime as we believe the woman was deliberately targeted because of her faith symbolised by her attire.
"I would urge anyone who recognises the man captured on camera to contact us as a matter of urgency."
Anyone who can name the man in the photograph should call Solihull police on 101.
Alternatively, people who do not want to speak to police officers directly can call the independent charity Crimestoppers anonymously on 0800 555 1111.