 A Cast Iron Promise From Qasim Niaz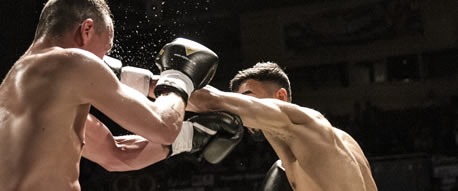 Blackburn boxer, Qasim Niaz has vowed never to fall back into a life of crime. After finding himself being convicted of a violent crime, the boxer who has come to be known as 'Cast Iron' has said he wants to use his experience to become a role model for the next generation. Since turning his life around, he has gone on to remain undefeated in his weight band. Speaking to The Asian Today he explained how he wants to pass the opportunity onto other potential boxers.
You won your last fight – how do you feel with your 8-0 record?
Yes, I won my last fight after almost 8 months out with an injury, it was good to be back in the ring. Being undefeated is great, it makes me train harder and there is a lot of pressure but that's when I perform my best.
How do you look back at the fight and what do you take from it?
My last fight was all about getting back in the ring again, making sure there were no injuries and I was fit and healthy. Eight months was a long layoff so I had to get back in and tick all the boxes. Thankfully it all went well and now I can focus and concentrate on bigger fights in the future. My last fight went great and all the worries I had mentally when I was injured have now gone. I didn't give it hundred percent as I was worried about my injury re-occurring but it all went well and now I'm looking forward to the future.
Looking back at your career, how has it been?
My career so far has been fantastic, it's been a real rollercoaster, I had my first professional fight on 12th of October 2013, I was on a roll until I suffered an injury in my 6th fight, I should have had at least 10 fights by now but the injury set me back a little. Other than that it has been awesome! The amount of respect I have received and the respect people show after a fight, after a win is unbelievable words can't describe it and it makes you feel like you're on top of the world.
Why did you decide to go into boxing?
Boxing was always a part of me as I started when I was 11 years old. The main reason I started was because I needed to build on my self-confidence as I had a medical condition with my bowels which I couldn't control. I would go to school and people would laugh, at times I even got bullied. From that point I started taking boxing seriously and by the age of 13 I had my first amateur fight winning on points. Everything was going well until I started using my new found skills on the streets and got involved in things I shouldn't have. I always wanted to prove a point to the people who used to laugh at me when I was suffering from the medical conditions I had. But having the opportunity to realise this couldn't carry on at a young age it allowed me to change my life and do something about my confidence. I would love to explain to some of the teenagers and children out there who get themselves into trouble and believe they have nothing better to do, who are bored on the streets and feel as though they want more to life. I would like the opportunity to show them that there are better things in life than what they're doing and if they find something they love they can also change their life around. It was the best decision I ever made and I will never look back and regret it.
What's been your best memory so far?
My best memory so far would have to be making my professional debut. Some of the dreams I had became a reality and I'll never forget that moment. Otherwise, my most memorable moment in boxing would have to be when I met Sugar Ray Leonard and had dinner with him.
Who is your inspiration?
My inspirations are Muhammad Ali because of his great character and the most recent has got to be Amir Khan, when I was a child at 13 years of age, he was going to the Olympics and I watched him and followed his career. I knew boxing was what I wanted to do from that moment. I have always been inspired to be like him, what he has achieved is remarkable; he has definitely made a path for a lot of Asian youngsters to make something out of their lives including myself.
Future aspiration?
My future aspirations are to be a world champion one day and I believe I have all the ability to do that. I want to be a role model to many others out there and help my community.