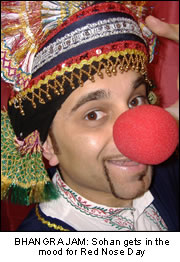 A BIRMINGHAM husband and wife duo are hoping to dance their way to success when they lead a marathon Bhangra themed fundraising effort for this year's Comic Relief.
Sohan and Aruna Kailey will head a number of Bhangra dance workshops on Saturday 10 March at Birmingham Sports Centre in a bid to raise money for the televised charitable event
The couple, who are members of the city's renowned Aashiyana Dance Company, are hoping the event will attract Bhangra enthusiasts as well as keep fit fanatics.
Speaking to The Asian Today, Sohan Kailey described Comic Relief as a "great" event to get involved in.
"I wanted to do something to help the charity and if having a skill in Bhangra Dancing can be put towards raising money for a good cause then why not do it!", he said.
"Bhangra is a colourful, exhilarating and vibrant dance which can be enjoyed by all. I strongly believe the arts can transform lives and enrich cultural diversity. "The idea of having an image of the 'Red Nose Bhangra Dancer' is quite unique and represents what Comic Relief is all about – having a lot of fun whilst raising money for a good cause. After all music and dance brings people together."
He added: "Bhangra can also be used as a way of promoting health and fitness and this is exactly what we are doing. People can join in at their own pace. Everybody is invited from experienced dancers to complete beginners. Most of all 'Bhangra Jam' is about engaging the whole community in fund raising."
The duo will put attendee's through their Bhangra paces, teaching them a number of moves in the open workshop which will cost just £3.50 to take part in.
All participants are requested to purchase their own Red Noses and wear these whilst taking part in the workshop.
During the event there will also be a raffle and prizes will be given out to the winners. Prizes will consist of sports and keep fit equipment.
Refreshments and healthy snacks will also be on hand for those who get a little peckish.
Anyone wishing to attend should contact Sohan Kailey on 07957 338 643 email info@ozonepr.com Or just turn up on the day.