 Detectives continue hunt for killers of Sukhwinder Singh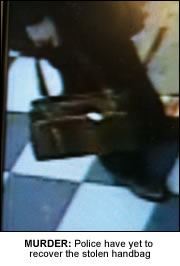 DETECTIVES investigating the murder of have-a-go hero Sukhwinder Singh have issued a picture of the victim's handbag which has yet to be found.
The father-of-one was fatally stabbed as he tackled two muggers moments after they snatched a woman's handbag near Barking station on Friday 8 January.
The bag, described as brown leather with a light and dark brown pattern, has not been found and police are appealing for information.
Detectives said they want to speak to anyone who saw the two suspects running away from Uphall Road, at the junction with Victoria Road, Barking.
They believe the suspects would have stood out because it would have been unusual for anyone to be running on the icy roads and pavements.
Mr Singh chased the men for some 50 to 70 yards along Victoria Road into Uphall Road after witnessing the mugging in nearby Loxford Road.
Detectives believe an altercation between Mr Singh and the two men took place in Uphall Road which resulted in Mr Singh's fatal stabbing.
Police are unsure which direction the suspects made off from Uphall Road and are appealing for information.
"We need to hear from anybody who witnessed the initial robbery, the actual altercation that led to the stabbing and anyone who may have seen the suspects running away from the Uphall Road area, DCI Stephen Clayman said.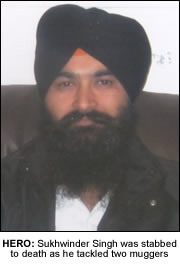 "It is possible that the suspects may have abandoned the bag and we appeal to anyone who has information about it to contact us."
Family members paid tribute to Mr Singh whose wife and young son live in India.
His cousin Harwinder Singh, 27, with whom he shared a house, said he drove to the scene where he found Mr Singh dying. He told the Mail on Sunday: "He was the bravest man, the most selfless person I've ever met."
A committed Sikh, Mr Singh used to go to Singh Sabha London East Gurdwara in North Street, Barking, every evening after work.
Anyone who can assist should call the incident room on 020 8345 3775 or to remain anonymous, Crimestoppers on 0800 555 111.
Related Articles