 Raaj Shaamji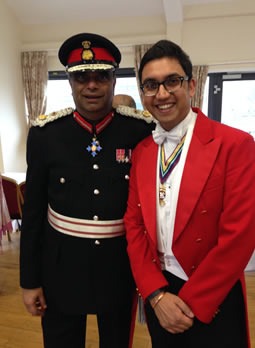 The Lord Lieutenant of the West Midlands, Paul Sabapathy CBE, first came to the UK 50 years ago. Of British Asian Christian origin, he is the first ever  BME holder of this role in this country, in 500 years something which the region should rightly celebrate. Our Lord Lieutenant the embodiment of the cultural diversity and harmony within the West Midlands.

He is a huge admirer of what has been achieved at the Balaji Temple which is the location for our Salaam Shalom Shanti Peace project. This project will celebrate similarities in peace and love and to set the foundation for a longer term strategy of community harmony. The Lord Lieutenant commented how remarkable it was to see a Hindu Temple taking on this initiative and having the confidence in bringing these wonderful communities together making this project very special. The project is very proud and humbled to be endorsed by the Lord Lieutenant who has been a committed supporter of the project since its conception in February this year.

The Lord Lieutenant has a deep relationship with the temple site. He sat on the Board of the Development Corporation when the site of the temple was a rubbish site and a tip and sold for a nominal sum to the Trustees. He recalls the local suspicion and opposition those years ago and  admires that the Trustees Dr Somasundar Rajah, Dr Narayan Rao & Mr Ramana Rao have done something remarkable not just for the Hindu community but for the wider West Midlands region by dedicating 7 faith hills to world religions and their communities. He commends the Temple's welcoming and inclusive approach and willingness to reach out to the community and not to be insular.

The Lord Lieutenant believes that the fundamental reason for conflict and war in the world is universal – where communities or nations do not take the time to understand the other person's point of view and engage in meaningful dialogue, tensions and conflict rise and misunderstandings occur.  Dialogue, engagement and understanding prevent conflict! To achieve peace in the world we need to understand each other and this is exactly what the project has been set up for. In turn this will make the West Midlands a better place. Asked what Her Majesty the Queen would say about the project, the Lord Lieutenant simply said she would say that this project will make the world a better place for our children and grandchildren.  

The project has now finalised the design work of both Islamic and Jewish monuments with local Black Country artist Luke Perry manufacturing both sculptures. The input of Luke brings a truly Black Country voice to the project.  More about the sculptures next month.

 www.jewishhilluk.wordpress.com and islamichilluk.wordpress.com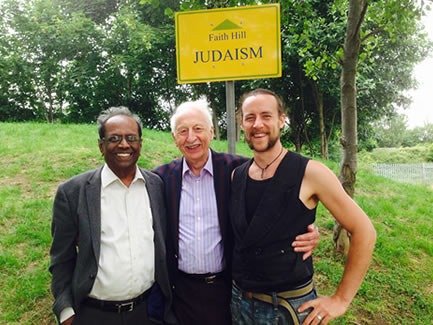 PICTURED: Working together on the Jewish Hill monument (l-r) Dr Narayan Rao (Chairman of Balaji Temple), Frank Maxwell (President of Birmingham Progressive Synagogue and Vice President of Birmingham Jewish Representative Council) & Luke Perry (Artist and Sculptor)