 The team sealed a win, finishing almost 79 points ahead of others in the League
The England Cricket Team may well have had much to celebrate this weekend and joining the national team in their jubilance was the local Birmingham-based Big John's Cricket Team.
Having sealed a win against Local Leagues cricket rivals Metroploitan XI, Big Johns Cricket Club won the Division One title of the Sunday 40 over competition and have now finished almost 79 points ahead of the others in the League
Set a target of 196 by Metroplitan XI, Big Johns reached the target with 5 wickets in hand in the final match, held at Blossomfield Cricket Club grounds in Shirley.
"I am extremely proud of the team," said Bob Saddiq Team Chairman.
"We have an extremely good work ethic and the players have performed well throughout the season."
"We have been unbeaten throughout the season, having played 14 games in the 40 over competition and only being beaten once by the rain where the game was called off."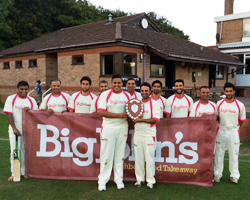 Big Johns Cricket Club consists mainly of staff and local community players and the team members are all from working backgrounds. Despite having full-time jobs they dedicate the weekends to playing the game they love. The Team Chairman described his team:
"We have a great team spirit in our camp and all the players work as a unit."
"We also have brothers Omar and Kadir Ali playing for us who are the brothers of England Spin Bowler and batsman Moeen Ali."
The season also saw the debut for the team of Mustapha Babar who is the team's youngest player at age 16.
We are also playing two further competitions in the same league. The 30 over competition starts next week with the semi final and, on the 27th September 2014, we are playing in the T20 finals day being held at the prestigious Edgbaston Cricket ground.
The trophy was brought in early for a photo shoot after the game on Sunday.
ldquo;The Awards ceremony and Dinner is not till November this year, however for now we will celebrate the win with a Big Johns Pizza," said team captain Shafiq Mushtaq.
The event was organised and hosted by the Local Leagues, Birmingham City Council and Edgbaston Cricket ground, to whom the team expressed their gratitude.