 Sombre scenes at funeral of Haroon Jahan, Shazad Ali and Abdul Musavir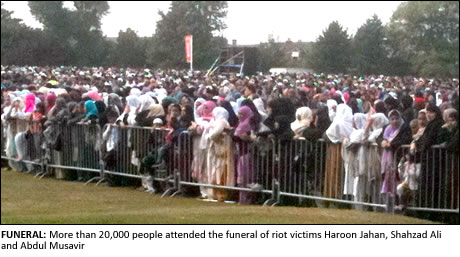 THOUSANDS of mourners have turned out for the funerals of three men killed as they tried to protect shops and homes from looters.
Haroon Jahan, 21, and brothers Shazad Ali, 30, and Abdul Musavir, 31, died in the early hours of August 10 after they were struck by a car during riots in the Winson Green area of Birmingham.
An open-air prayer service was held for them near the murder scene, where they were hailed as martyrs.
Just hours earlier police charged a fourth man with the murder of the three men.
Ian Beckford, 30, from Quinton, appeared at Birmingham Magistrates Court this morning.
Three men – Adam King, 23, from Kings Norton, Birmingham, Joshua Donald, from Kelsall Croft, Ladywood, and a teenager, 17, who cannot be named from legal reasons have already been charged with three counts of murder.
Police estimated the service was attended by 20,000 people.
Many in the crowd sported T-shirts printed with the names of the three victims, beneath the heading "My Brothers." Others wore shirts bearing the words "Gone but not forgotten."
A message on screens erected at Winson Green read: "Three precious souls gave their lives protecting all of us."
In sombre scenes, the mourners comforted each other, some wiping away tears but most remaining calm.
Scholar Shaykh Muhammad al-Yaqoubi, who spoke at the ceremony, said: "They made an example of how a Muslim should be and what Islam is… These three people are martyrs and the best we can do for them is to pray for them and for ourselves. To pray for our community."
Mr Jahan's father, Tariq Jahan, spoke briefly to thank everyone for coming to the service at Summerfield Park in Dudley Road.
Councillor Ayoub Khan, cabinet member for local services and community safety, also addressed the crowd on behalf of the families, paying tribute to the community's "self-control, maturity and humility". He said: "Your conduct has been a true credit to the faith you represent and to the community you come from."
The men's hearses were laden with flowers, with their names spelt out in white floral arrangements.
The three men will be laid to rest at a private burial at Handsworth cemetery.