 Kashif Siddiqi in all-star football match for Sodje Foundation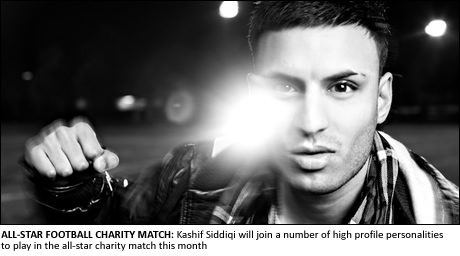 INTERNATIONAL footballer Kashif Siddiqi will join a number of high profile personalities to play in an all-star charity match in April.
The game between the Sodje Foundation and Forever Bury FC on Sunday 29 April 2012 at Gigg Lane, home of Bury FC will look to raise money for the Sodje Sports Foundation, Bury Hospice and The Bury Fusiliers.

A number of top players and celebrities will feature in the game including Siddiqi, the Sodje brothers, Vincent Pericard, Dieter Hamman, Dane Bowers, Earl Barrett, Frank Sinclair, Yakubu, Antoine Sibierski, Lomana LuaLua, Dean Keily ex boxer Johnny Nelson, Lee Clark, Steve Watson, and many more.

The game will be one of a number of events held on the last weekend of April, including a family fun day out on the day by the Sodje Sports Foundation, which aims to inspire and empower children and young people by promoting education and life skills through sport.

A number of key organisations will be supporting the events including Kick It Out, Boots 4 Africa and the Kashif Siddiqi Foundation (KSF).

The KSF Foundation aims to use football as a catalyst to create awareness of health, highlight the benefits of education through sport and support community development in the UK and in Africa.

Kashif Siddiqi, Pakistan international and founder of the KSF said: "I'm honoured to be part of a great initiative, and hope we can really push to make this to raise funds for great causes, I urge families of all backgrounds to not only come out and show their support but join in on the activities on the day"

Steve Sodje, founder of the Sodje Sports Foundation, added: "We have been fortunate enough to host several events similar to this, but this year we have changed the scope slightly and hope that bringing a game like this can really spark something that will have a lasting effect"

Kashif and Steve are also in talks of hosting a high-profile charity game next year between Africa and Asia, raising money and awareness for two worthwhile causes designed to inspire the next generation to believe that they can achieve their goals.