 Supporting Birmingham Children's Hospital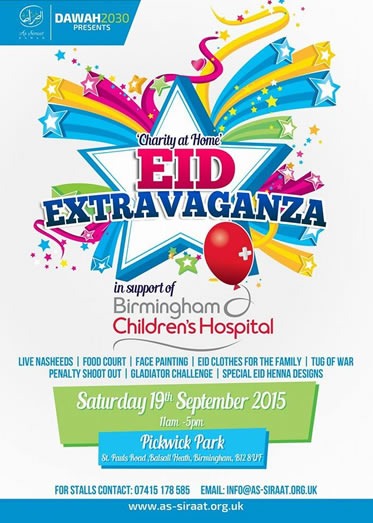 The busy lives, hectic days and full schedules won't stop the As-Siraat team from Hazrat Sultan Bahu Trust organising a Fun Day in Pickwick Park. This Eid extravaganza event in aid of the valuable Birmingham Children's Hospital will prove to be a great day just before the Muslim Eid festival for the whole community. Hazrat Sultan Bahu Trust has been established since 1983 and serving people in the UK and abroad through education, social and welfare programs.  
The As-Siraat team aims to engage the whole community, people of all ages and faiths, in this event. With something for everyone, we would like to encourage people to come and enjoy live entertainment, food stalls from different communities, clothes for all ages and all styles, face painting, henna designs for Eid and many activities for the whole family.
Catering for Eid preparations and celebrating Eid with the wider community is just a start of the ultimate goal of raising money and awareness for the Birmingham Children's Hospital. We hope once again the generous community of Birmingham will help us raise the much needed money to bring smiles to the faces of young children.
A local community member said, "I am thrilled to hear of such an invaluable event where the cause is to help people, especially young children". Another person said "It's about time we did more for our local services".
"Birmingham Children's Hospital makes a real difference to the lives of the children and families they work with, we should support them."