 Walsall footballer talks Exclusively to The Asian Today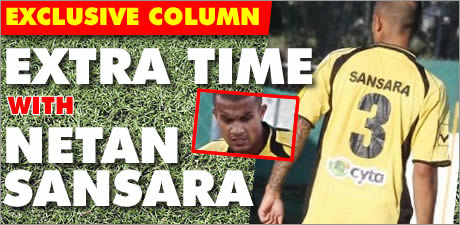 AS English football enters the 'business' end of the season, one footballer who has already reached the end of his 2011/2012 season is Walsall footballer Netan Sansara.
The 22-year-old is back home in the Midlands after finishing his debut season with Cyprus team PAEEK FC.
Here he reflects on his first season and reveals how he's weighing up his options for next season…
Its been a great season for me on a personal note. I have only missed two games this season and played all the rest so on I've been happy with my input. The team has been great with me and I've enjoyed my time there. They made me feel welcome when I came in at the start of the season and I have thoroughly enjoyed my football. It was tough going without seeing my family for so long but I got used to it and in the past year I've really learnt a lot about myself and learned new things on and off the field so overall its been a beneficial and enjoyable experience.
At the start of the season we wanted to gain promotion but we just fell short in fourth place which was disappointing after such a promising start. With a bit more luck and quality in certain areas maybe we could have achieved our goal but it was not to be. However next season the team can build on this and try and put right the areas that need improving and get that all important promotion.
My highlight of the season was beating the champions 1-0 in the second phase of the Championship. It was a great performance by the team and the result was thoroughly deserved.
My lowest point has to be was missing a game due to injury and breaking my 100% appearance record.
I have been rewarded with a new contract at the club but I will assess my options in the summer and make a decision what suits me. I have a few offers on the table so I will make the decision which is best for me and my career.
We've got a tremendous summer of sport coming up and I can't wait. The Olympics will be awesome, and the European championships of course. I am looking forward to watching Spain they play great football and they are my favourites to win the competition. But hopefully England can prove me wrong and win the competition. Come on England!
Netan Sansara was talking to The Asian Today Journalist Zakia Yousaf