 35 arrested as rival protesters clash in Birmingham city centre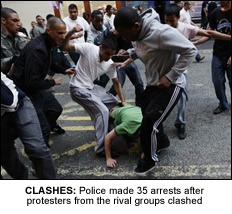 WEST Midlands police have been accused of "playing down" the racist nature of an anti-Muslim protest in Birmingham that resulted in over 30 arrests on the weekend.
A group calling themselves the English Defence League (EDL) staged a protest against Islamic Fundamentalism in Birmingham city centre on Saturday.
Members of the group clashed with supporters of the anti-fascist group Unite Against Fascism (UAF) who staged a counter-protest in a separate part of the city centre on the same day.
Police confirmed 35 arrests had been made and three people were injured in the scuffles.
But they warned the number of arrests could rise once video footage of the clashes is examined in more detail.
Respect councillor Salma Yaqoob who spoke at the UAF rally accused EDL of attempting to "sow racist division by stirring up anti-Muslim hatred."
She said she was also concerned that West Midlands Police were "playing down" far right links to the group.
EDL has made a point of denying they are a racist organisation. During the weekend protest supporters held placards denying they had any links to the BNP, while the groups Facebook page also carries the same denial.
But in a similar protest by the same group in Birmingham in July, a member of the group, interviewed on Talksport, admitted links with the BNP and confirmed their "opposition to all Muslims practising their faith in Britain".
"The instigators of this demonstration are fascist thugs. They are coming to our city with one intention only: to sow racist division by stirring up anti-Muslim hatred," Ms Yaqoob said.
""One of their ringleaders made their intentions very clear when he publicly stated his "opposition to all Muslims practising their faith in Britain", and admitted links with the BNP.

"The police have assured me that they will deal with any troublemakers. I am concerned, though, that the West Midlands Police are playing down the racist nature of this protest, and the links the protestors have with far-right organisations.
"Everyone has the right to their opinions, but no-one has the right to incite hatred against others on the grounds of race or religion. It is very important that the West Midlands Police act firmly to deal with any incitement to racist hatred."
A spokesperson for West Midlands Police said EDL did not forward a formal request to hold to protest and that "discussion and planning" of the event took place on the internet.

The spokesperson added: "West Midlands Police is aware of some speculation that this group is linked to the British National Party, however no such information or intelligence has been received to support this view."