 Azhar Hussain, Awarded in Queens Birthday Honours list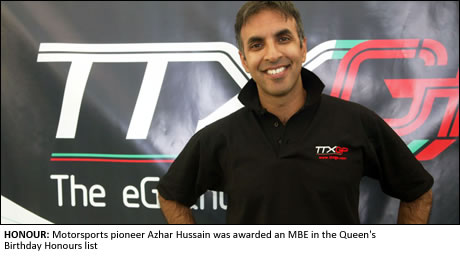 A MOTORSPORTS pioneer has said he is 'honoured' after being awarded an MBE in the Queen's Birthday Honours list.
Azhar Hussain is the founder and CEO of eGrandPrix, the organisation behind TTXGP, the world's first sanctioned zero carbon, clean emission motorcycle race.
Launched on the Isle of Man TT in 2009, TTXGP, the eGrandPrix is now an international race series with races in seven countries and over 30 teams worldwide taking to the track in 2011. TTXGP is the leading global electric race series and at the forefront of motorsport technology, continuing Britain's long standing heritage for motorsport excellence. 
Speaking about his MBE Hussain said: "I am honoured at the recognition but in truth the award belongs to the teams, suppliers, tracks, governments, and many others who stand with TTXGP and believe we can all make a difference.
"Competition not only provides great challenge and entertainment but also improves the breed; we hope that will come to be seen as a milestone in bringing new transportation technology to the world beyond motorsports."
TTXGP has inspired a new generation of engineers at a time when the world desperately needs them; it is engineers who will help solve many of the problems of the 21st century and beyond. Hussain also sees education as a huge part of TTXGP's remit and is forging links with colleges to use TTXGP as a model with which to inspire young people to choose engineering as a profession.