 Asian businesswoman launches infidelity investigation agency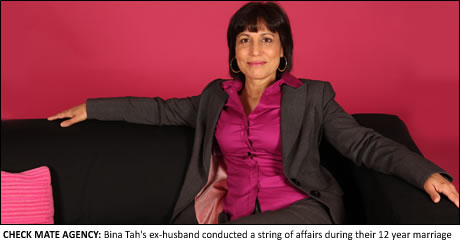 A BIRMINGHAM woman whose husband conducted a string of affairs during their 12 year marriage has launched her own infidelity investigation agency.
'Check Mate' is the brainchild of mother Bina Tah who saw her marriage disintegrate at the hands of her cheating husband. She launched the agency determined to help other victims who suspect partners of playing the field.
Bina's own experiences of infidelity began 14 years ago when suspected her husband of 12 years was having an affair after piecing together evidence from phone calls, receipts and excuses about 'working late'.
She confronted him but he dismissed her suspicions as 'hysterical woman's syndrome'.
In 2005 she found evidence on his mobile phone that he was having an affair again. Bina started her own investigations and traced the woman he was having an affair with.
This time her husband admitted being unfaithful but said the affair was over. Bina forgave him for the sake of her family but four years later she discovered he was still betraying her with the same woman.
They are now divorced and Bina is determined to transform her knowledge and experience into providing a service to help other people get the answers they need.
"Check Mate was formed because of the overwhelming need for infidelity investigations in the region," she says. "When I was in a relationship and the victim of cheating I desperately needed to know if my suspicions were correct.
"I realised there was nobody I could really turn to for help or proof that my suspicions were right. It made me doubt myself and as my children got older I could see that they too were increasingly affected by their father's affair. It was a horrible time but good has come out of it now."
Soon friends and colleagues were asking Bina for advice about their own relationship doubts and she saw there was a great need for people to know the truth.
 As a result, Bina – a law graduate from Birmingham City University – studied private investigation techniques and recruited an experienced team dedicated to working for men and women who are the victims of cheating partners.
"Our clients may want proof that their partners are cheating for their own peace of mind, to prove the infidelity in divorce proceedings or just to prove to their friends and families that their suspicions are correct. We use a number of investigative techniques to get them the proof they need", she adds.
 "Although the results of our investigations can be heart-breaking for our clients, I know from experience that living with suspicion and doubting yourself is far worse. It's my mission to help people who find themselves in the same situation as I was. They deserve better than to live a lie with a cheating partner."