 American Diva is new urban sound in Asian music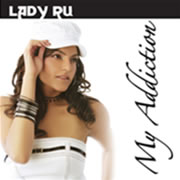 Lady Ru is a name some may have heard.
The American Gujarati is already enjoying UK success following the release of her debut single 'Chances Are' with Bhangra legend Channi Singh. The song, which has stormed its way to the top at the Asian radio charts is testament to the Lady Ru sound – upbeat RnB with smooth and captivating Hindi lyrics.
The single 'Chances Are' has been taken off her debut album 'My Addiction' released last month.
A year in the making, 'My Addiction' is an ensemble of 15 mesmerrising tracks.
The album features duets from a 'Who's Who' of the Asian music industry.
Channi Singh, Apache Indian, Taz, Shahin Badar and legend Amar, the first ever British Asian artist to have a Hindi Top 75 in the UK, all lend their amazing voices to the album.
Their inclusion on the album is testament to the buzz surrounding Lady Ru at the moment. Which other new artist could manage such a wonderful array of guest vocalists on their debut album? Not many, that's for sure.
When 'My Addiction' was released last month it took a matter of days for Asian music fans to give their verdicts. 'Amazing', 'Wicked' and 'Cool' were just a few of the comments. And they're right.
Everything on the 15-track album oozes quality and class.
While so many artists have tried and failed to accommodate the RnB and Hindi sound, Lady Ru manages to hit the nail on the head.
US urban hit maker Jim Beanz was the man behind the production of the album.
Having worked with some of the best urban artists on the planet (Will Smith, Nelly Furtado and P Diddy) his input on the album is invaluable.
While 'Chances Are' is for me the best track off the album, 'Got Me (Burnin' UP) with Apache Indian, Shahin Badar and Leseya Lee, and Catch Me featuring Taz of Stereo Nation follow closely behind.
The album also touches on the reggae vibe through 'Mr DJ', 'The Only One' and 'Chances Are Remix'.
All in all, 'My Addiction' is a great debut album from a woman who is unafraid to push her own sound in the Asian music industry. This won't be the last we hear of Lady Ru , that's for sure!
Track Listing
My Addiction feat Amar
Snake Charmer feat EL Feco
Hands Up feat Kuf Knotz & Azyah
Got Me (Burnin' Up) feat Apache Indian, Shahin Badar & Leseya Lee
Catch Me feat Taz/Stereo Nation
Your Woman
Chances Are feat Channi Singh
Adhuri feat Mangal Singh
Gonna Get My Way (Bunjah) feat Amar
Love Me feat Cavan & G-Deep
Mr. DJ feat Leseya Lee
You and Me feat Kino
Homeboy feat Kuf Knotz
The Only One with Tanto Metro & Devonte
Chances Are – Subs One Drop Mix