 Youngsters will hear stories from survivors of 1995 massacre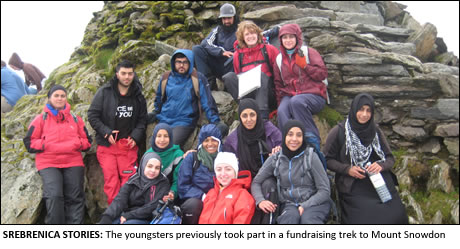 ELEVEN young British Muslims have embarked on a journey to Srebrenica, the site of Europe's worst genocide since World War II.
The youngsters from Birmingham, London and Preston, will spend a month living and working with families in the Bosnia & Herzegovina town where over 8,000 Muslim men and boys were killed in 1995.
The project is being run by MADE in Europe, a charity which works to mobilise young Muslims to take action on issues of global poverty and injustice through campaigning and overseas volunteering.
As part of their trip the youngsters will live with survivors of the genocide and working with villagers will set up strawberry farms as a source of livelihood for local families who lost everything during the conflict. 
Volunteer Halima Begum was only five when the Bosnia conflict took place. 
"This is the forgotten massacre," she said. "Young people like me don't even know about it yet it was our brothers and sisters who were killed.  I want to go and tell the Bosnian people that they are not forgotten, we are one global community and their suffering will not go unheard."
A delegation from the East London Mosque led by Director Dilowar Khan will join the volunteers for the 16th anniversary of the Srebrenica massacre on 11 July.
The volunteers will be taking part in a peace march for the three days before the anniversary where they will be joined by thousands of people from around the world to remember those who lost their lives and the families they left behind.