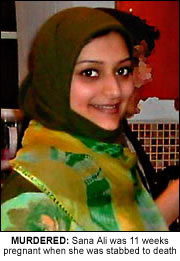 A BIRMINGHAM student stabbed her secret lover's wife to death in an act of 'jealousy and desperation', Manchester Crown Court has heard.
17-year-old Sana Ali was stabbed to death at her home in Bury, Greater Manchester in May this year. She had 42 separate wounds to her body, including one to her abdomen. She was 11 weeks pregnant.
Birmingham student Harmohinder Kaur Sanghera, on trial for murder, has denied the charges.
Mr Peter Wright QC, prosecuting, told Manchester Crown Court Sanghera had been in a relationship with Mrs Ali's husband, Sair, since 2005.
Mr Ali had not initially told Sanghera of his arranged marriage last December and the affair continued. When Mrs Ali became pregnant Sair told the defendant.
Mr Wright said whoever murdered Mrs Ali at her home in Throstle Grove had deliberately lifted her top while she lay on the bedroom floor and stabbed her in her abdomen.
"The deeply personal element points unhappily, and unequivocally, to the identity of the killer being the defendant," he said.
"You may conclude from the evidence that the defendant not only resented Sana Ali but resented that she was expecting the child of her husband."
The court was told Sanghera, a Birmingham University student in her final year of exams, had been in a relationship with Mr Ali for two years after they were introduced by a mutual friend.  
Mr Wright said: "From the outset Sair Ali lived a lie. He did not tell the defendant he was engaged to be married. As the relationship became more serious Sair used religion as a pretence for a reason why it could not last."
He added as the relationship progressed Sanghera became more infatuated with her married lover, even considering converting to Islam to be with Mr Ali.
When he returned from a trip to Pakistan in which he married Sana Ali he lied to Sanghera, saying he went on a pilgrimage to Saudi Arabia.
He eventually told her of his trip to Pakistan but told her he was engaged.
Mr Wright said he did not have the courage or decency then to tell her the truth that he was, in fact, married.
By this time, the Crown says, Sanghera was "infatuated" with Mr Ali and was "obsessive" in her pursuit of him.
Soon after, in March, Mr Ali told her his wife was pregnant but in a bid to keep the affair alive she said she was prepared to become his second wife.
He refused but eventually relented and the pair took part in a muta marriage ceremony, a temporary arrangement which allows a man and woman to live as husband and wife for a specified time.
In their case the time limit ran out on May 16 – five days after Mrs Ali was found stabbed to death.
The court was told on May 11 Sanghera drove from her home in Birmingham to Bury armed with a knife.
Later that day Sana's family members found the teenagers blood-soaked body in her bedroom.
When arrested Sanghera told police she had gone to the house to tell Sana about her relationship with Sair.
She said the two of them had chatted and she left Sana "alive and well".
But her footprints were found on a work surface in the kitchen near the window which the prosecution suggested was how she left the scene.
Mr Wright said: "It is the Crown's case that this was no murder by a random psychopath who happened to pass after Sanghera left. This was borne of jealousy and desperation."
The case continues.