 Pakistan bowler yet to decide on appeal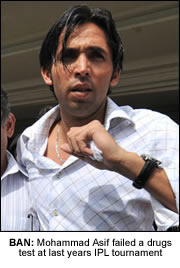 PAKISTAN bowler Mohammed Asif has been banned for one year by an Indian Premier League drugs tribunal.
The 26-year-old tested positive for the banned steroid nandrolone during the inaugural IPL competition in May last year.
He was subsequently suspended by the Pakistan Cricket Board and last month ended his contract with his IPL team The Delhi Daredevils.
"Mohammad Asif was found guilty by the IPL Drug Tribunal in as much as a prohibited substance namely Nandrolone was found in the urine sample extracted from the player during the support period and the match played on May 30th 2008 between the Delhi Daredevils and the Rajasthan Royals at Mumbai," a statement released by the IPL's three-man drugs tribunal said.
"The year's ineligibility for Mohammad Asif will be from September 22, 2008, as that was the date when the Indian Premier League had imposed the suspension order, post which the cricketer has not been allowed to play any match."
Asif had maintained his innocence appealing against the results of two original drugs test after they showed differing levels of nandrolone.
During the tribunal Asif had claimed his nandrolone levels had been raised by the use of eye drops that contained the substance.
The ICC confirmed it had been notified about the IPL tribunal decision to ban the fast bowler, adding they expected "all Member Boards [to] adopt the ban and as such the player will not be available for official cricket until the ban has been completed."
ICC Chief Executive Haroon Lorgat said they maintained "a zero tolerance in the area of doping".
The incident is the second time Asif has tested positive for the banned drug.
In October 2006 he tested positive following an out-of competition test conducted by the PCB.
He was handed a one-year ban but was allowed back into the sport after it was overturned on appeal.