 Two get life terms for brutal killing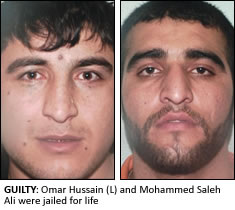 A BIRMINGHAM man has been jailed for his part in the horrific murder of honour killing victim Banaz Mahmod.
Omar Hussain, 30, from Smethwick was jailed for life and told he would serve a minimum of 21 years for murder.
Another man, Mohammed Saleh Ali, 28, was also convicted of murder and jailed for life with a minimum term of 22 years.
Both were also found guilty of threatening to kill their victim's boyfriend Rahmat Suleimani and perverting the course of justice.
The men's victim was their 20-year-old cousin Banaz, whose body was found in a suitcase buried beneath the garden of a house in Handsworth, Birmingham in January 2006.
She was murdered for refusing to return to her violent husband and starting a relationship with Rahmat, an Iranian Kurd.
Banaz's father Mahmod Mahmod and uncle Ari Mahmod were jailed for life for her murder in 2007.
Another man Mohamad Marid Hama was also jailed for life after admitting to Banaz's murder.
Hussain and Ali fled to Iraq after the murder but in the first of its kind were extradited from Iraq to face trial for the shocking killing when officers from the Metropolitan Police tracked them down.
Banaz, an Iraqi Kurd from south London, had sought help from the police just weeks before she was murdered.
She wrote to the police four times telling them she feared for her life naming Hussain, Ali and Hama as the men she believed would kill her.
But her fears were dismissed by a female officer who believed she was making up the accusations to get attention from her boyfriend Rahmat.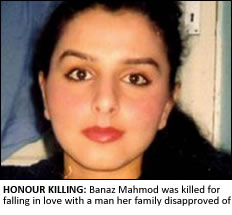 On 25 January 2006 Rahmat filed a missing persons report after Banaz failed to make contact.
Three months later her body was found concealed in a suitcase which had been buried to a depth of six feet beneath the footings of a house in Alexandra Road, Handsworth.

A post mortem gave cause of death as strangulation.

Following today's convictions, the officer leading the enquiry, DCI Caroline Goode, said: "We have been absolutely determined to bring these men before the courts to stand trial for the murder of Banaz.

"Following the conviction of her father and uncle back in 2007, these men no doubt thought they had escaped justice and that they would not be held to account for the terrible crime that they committed.

"I am extremely pleased to see justice served for Banaz today and would like to thank everyone involved in the enquiry who has made this possible.

"As I said in 2007, Banaz was a loving, caring, young woman whose life was brutally cut short by the very people who should have loved and protected her – in any terms the ultimate betrayal."