 Amir vows return after KO disaster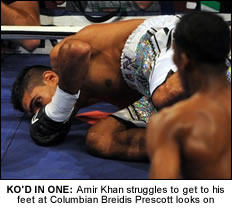 AMIR Khan will return to action in December at the NEC in Birmingham – and insists that despite defeat by Breidis Prescott, he will come back stronger.
Khan suffered his first professional knockdown at the MEN Arena, hitting the canvas with barley a minute registered on the clock.
In the immediate aftermath of his devastating first round KO loss, Khan offered "no excuses" for what happened at the MEN Arena.

"I've got no excuses, the better man won," said Khan.

"He caught me cold in the first round, it was just one of those fights where I got caught cold.

"I lost in the amateurs and came back, and I will do the same again. I am going to come back stronger.

"I am going to take a week off, and then work on all the mistakes. I will be back to the gym, work hard, train a lot harder and come back a totally different fighter."

Prescott, an unknown Colombian, came into the fight with an impressive-looking 19-0 record with 17 early wins, but wasn't expected to cause such an upset.

He was a replacement for former featherweight champion Derek Gainer, who pulled out of a fight with Khan four weeks ago.

Promoter Frank Warren said he accepted responsibility for the defeat.
"Gainer decided for whatever reason he didn't want to fight, and we were hunting around for an opponent", he said.

"(Khan's trainer) Jorge Rubio came up with the name of Prescott, but whoever Amir Khan fights, the buck stops with me.

"When he's winning, I'm a great matchmaker, when he loses it's my responsibility."

Khan said that he would stand by Rubio, a little known Cuban who had previously trained Cuba's national team and is building a fledgling stable in Florida.

After leap-frogging the likes of Floyd Mayweather Snr and Buddy McGirt as a potential trainer for Khan, he had worked on the 21-year-old's defence ahead of the Prescott fight, but all the efforts in the gym came to nothing.

"Training went really well, but I got caught with a flush shot by a power puncher but I will come back stronger," said Khan.

Khan's business manager, Asif Vali, added: "We have got every confidence in the trainer."