 Salim Razaq was 'criminal in a police uniform'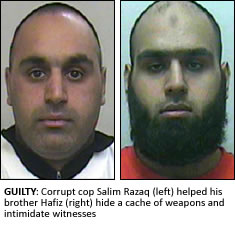 A CORRUPT Lancashire police sergeant helped his drug gang "enforcer" brother by hiding a cache of weapons and intimidating witnesses, it has emerged.
Salim Razaq, 33, pleaded guilty to misconduct, perverting the course of justice, possession of ammunition and firearms, and money laundering before the start of his trial at Liverpool Crown Court last month.
A raid on the Lancashire Police sergeant's home found three machine guns hidden under the stairs, bundles of ammunition stored under the garden shed and more than £70,000 of laundered cash in his bedroom.
Details of the case have only just emerged after reporting restrictions were lifted following his acquittal of mortgage fraud in a separate trial.
Razaq was caught when he plotted to help his brother Hafiz, known as "The Enforcer" and "Big Haf", escape prosecution for his role in a violent turf war between drugs gangs in Preston.
He was sacked by Lancashire Police in June.
Razaq's brother, Hafiz, 25, admitted perverting the course of justice and money laundering.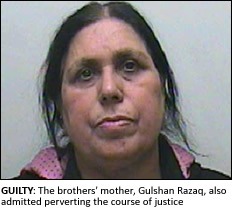 Their mother, Gulshan Razaq, 58, also admitted perverting the course of justice.
Three others also admitted offences. Jason Lawrenson, 26, of HMP Preston and Daniel Cookson, 25, of Yewtree Avenue, Ribbleton, admitted money laundering. Louis Bamber, 22, of HMP Liverpool, admitted possession of a firearm.
They will all be sentenced, along with the former police officer on November 11.
Assistant Chief Constable of Lancashire Constabulary Andy Cooke said: "Salim Razaq was nothing short of a criminal in a police uniform and I am appalled by the fact that a police officer was involved at the level he was in this criminality. However, I am extremely proud of the Lancashire officers who put this case together, the quality of which is reflected in the guilty pleas. I am sure that the sentences will reflect the seriousness of these crimes."