 Police name victim as Mubasher Hussain Ashraf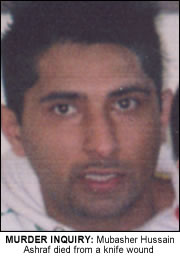 POLICE have released the name of a man found dead in a car in Leicestershire.
Twenty-seven-year-old Mubasher Hussain Ashraf, known locally as 'Busha,' from the Hinckley area was found in a black Audi A3 just before 8pm on Sunday September 7.
A post mortem examination revealed Mr Ashraf died from a knife wound.
Leicestershire police said they had launched a murder inquiry and were trying to piece together Mr Ashraf's last movements.
Detective Superintendent Stuart Prior said: "Following the discovery of Mr Ashraf's body a major investigation was launched.
"We are trying to piece together Mr Ashraf's last known movements.  We know that he was in the Castle Tavern, Hinckley at around 6pm on Friday September 5 and would like to hear from anyone who saw him from this time up until 8pm on Sunday September 7.
"We'd also like to speak to anyone who saw the black Audi – registration number YY04 YJD – which was owned by Mr Ashraf – in Middlefield Lane.  There are allotments and industrial premises in the area so we're hoping that people who saw the car parked there but didn't think anything of it at the time will now come forward.
"Detailed forensic work is still going on at the scene as we work to piece together the chain of events that led to the death."
Mr Ashraf leaves behind his parents an elder sister and three brothers.
A statement released by the family said: "We have been left distraught and absolutely devastated by what has happened.  There are no words that can describe how we are feeling at this time.  We just can't believe it.
"We are appealing to anyone who knows anything to please contact the police." 
Anyone with any information is asked to contact Leicestershire Police on (0116) 222 2222 and quote incident 748:7:9 or call Crimestoppers on 0800 555 111.