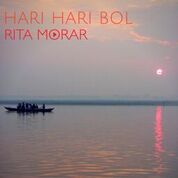 After capturing the audience with her second single release 'Let Me Know' which reached no.4 on the iTunes World Genre chart in October 2016, Rita Morar is set to release her third single called 'HARI HARI BOL' on Thursday 30 November 2017.
Originally a 30 second sample on her Soundcloud page in 2015, 'Hari Hari Bol' gained attention by captivating listeners including BBC Radio presenter Nihal who requested Rita to develop this devotional chant sample into a longer version for radio. This achievement helped 'Hari Hari Bol' to be featured as Track of the Week in June 2015 on BBC Asian Network on Nihal's daytime radio programme.
Written and produced by Rita, 'Hari Hari Bol' will be released with a feature video shot in India by Keevan Morar. Rita explains, 'this song is important to me as through devotional singing at an early age, I found my voice. The video is equally as special because the audience shall witness first hand footage from our 'yatra' (pilgrimage) in India, which took place in Rishikesh, Haridwar and Varanasi. Timing could not be any more appropriate for us and moments like these may never be witnessed again. I am just very fortunate this linked together in a raw and beautiful way'.
'Hari Hari Bol' is now available for pre–order on iTunes via the following link:
https://itunes.apple.com/gb/album/hari-hari-bol-single/1309089578?ls=1&app=itunes
Despite being unsigned, singer/songwriter Rita has forthcoming music lined up and is already working on other projects with artists such as Hussain Manawer, Drifta, The107 and Sound Shikari, she will be performing live at various events across the UK and hopes to touch even more audiences with her heartfelt vocals.
For further information on 'Hari Hari Bol', media enquiries, interviews and photos of Rita Morar please contact info@ritamorar.com
Rita Morar can be contacted via the following social media streams:
Website: www.ritamorar.com
Twitter: @ritamoraruk
Facebook: www.facebook.com/iamritamorar
Soundcloud: www.soundcloud.com/ritamorar