 The Bollywood Actor Talks About His Role In Katti Batti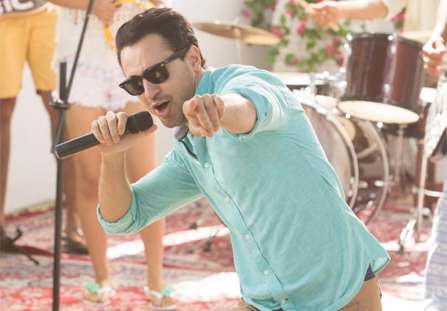 Your last release Gori Tere Pyaar Mein released in 2013. Why has there been an extended break between you last film and Katti Batti?

After the release of Gori Tere Pyaar Mein, I was suddenly not desirable. I lost people who I thought were my friends. But then one day Nikhil Advani called me for a script reading and that made me look at him in a different light. The hurdles didn't stop there. The actress who had initially liked the script of Katti suddenly refused to work with me. But thankfully Nikhil held his ground.
You are working with Kangana for the first time and she also happens to be in the peak of her career. How does that make you feel?
I hope she is not in her peak yet. I hope her career peaks with Katti Batti.
Aamir Khan apparently cried after watching Katti Batti. Does he advise you on your films?
People have somehow always presumed that Aamir directs me on my movies. Do you think he told me to do Luck? Most of the time we don't talk about movies. I refrain from showing him my work because I know he will not have pleasing things to say.
What Is it true that you were initially not excited about doing Katti Batti?
Yes that's true. I think I bothered Nikhil a lot in that sense. I didn't like the script at all at first, when I read it. I even told Nikhil that, but then he asked me if he could give me a narration. I didn't feel that would make any difference but Nikhil really insisted. I would avoid his calls and say I was busy when he would try to meet. This went on for a month. He tried everything to get a hold of me. In the end I thought that perhaps he is just not getting the hint, so we ended up setting up a meeting. While he was narrating, I suddenly realised the impact of the story on me. When Nikhil narrated the story to me, the characters came to life, the fights and the love came to life and I started relating all that to the exact things that had happened between me and my wife. That is what pulled me into the film and how I ended up agreeing to do it.
Your last few movies didn't do well at the box-office. Do you feel 'Katti Batti' could be the game-changer?
I'm not sure. All I can say is that whenever I have worked with honesty and been genuinely happy about a film, the film has done well and got what it deserves.
What is Katti Batti if not a rom-com?
Where all rom-coms end, this film begins. Everyone has seen films where a boy meets a girl, fall in love, they fight and then get back together to live happily ever after. This obviously happens in Katti Batti as well, but before the film even begins. The story portrays the end of a live-in relationship. During that time, Kangana's character and mine see the ugly side of each other's person. They have to now find out if love is strong enough to survive the hardships of life and relationships. Have we got the morals and values in place, in India, to stay together and be faithful? And that's ultimately what marriage and relationships are about.
This is the first time you are working with Kangana Ranaut, tell us about it.
Kangana has been amazing to work with. She cares so much about her craft, and strives to do better and better. I have a lot of respect for her.
Tell us about the stop motion video of the 24hour-long kissing scene in Katti Batti.

It basically involves shooting everything frame by frame, and in between frames you have to move. We shot that 'Lip to Lip' song, and between that, each time we had to kiss. Not only that, but we had to hold the kiss while the props moved around and the set rotated around us. It is a very difficult procedure, and so painstaking because we cannot move more than a fraction of an inch each time. If you move in the wrong direction or too much, that interrupts the entire continuity of the shot, and we have to start all over again. Overall, it is a technically precise song. The result is really cool and has added great value to the film.