 World Title holder blasts Khan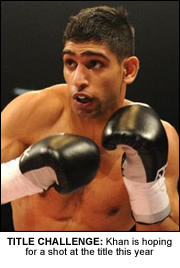 THE MAN standing in the way of Amir Khan's ultimate goal of becoming a world champion has launched a sensational verbal attack on the Bolton star, calling him a fraud.
Khan, who has made no secret his desire to be crowned the youngest world champion, beat Dane Martin Kristjansen this month to set up the possibility of a mouth-watering clash with American champ Nate Campbell.
36-year-old Campbell admitted he had followed Khan's career since his heroics at the Athens Olympic's but dismissed the level of opposition the Bolton Boxer has fought since turning professional.
"Khan's a big fraud. A lot of guys out there are talking the talk but it's me who is walking the walk", Campbell said.
"Who's Khan fought? Willie Limond? He couldn't even punch and he almost knocked Khan out.
"So what's going to happen when he fights a guy like me who can box, throws in volume, can slug, has great defence, a great inside game and a great outside game?
"He's fighting guys like Kristjansen who couldn't score a knockout with a hammer.
"Look at the knockout ratios of the guys Khan has fought and then look at my knockout ratio.
"I can do anything there is in the ring to do. I haven't been hurt or down in my whole career so I'm not worried about Amir Khan.
"I'm only worried about how much they're going to pay me. I hope Khan's stupid enough not to be afraid".
While Khan is eager for a title shot, promoter Fran Warren admitted he would like to see Khan in one more fight before a title challenge is considered.