The BCABA Network Annual Dinner and Awards 2017 left a lasting impression on guests, as they left the Wolverhampton Racecourse, feeling inspired and entertained.
Held on September 29th, the event was hosted by ITV Central's Sameena Ali-Khan; who radiated poise and charisma throughout. The evening kicked off with a powerful performance by Dr. Subaig Kandola, and continued on to be led by BCABA Network's Mak Ghattura CBE. Mak graced the audience with a presidential welcome, and drew upon the importance of collaboration with stakeholders, for the business community.
A brief overview of BCABA's roots and future plans was delivered by Rakesh Saini, who also shared a poignant message for the millennials of the business world, and highlighted the endless benefits of excelling in chosen industries.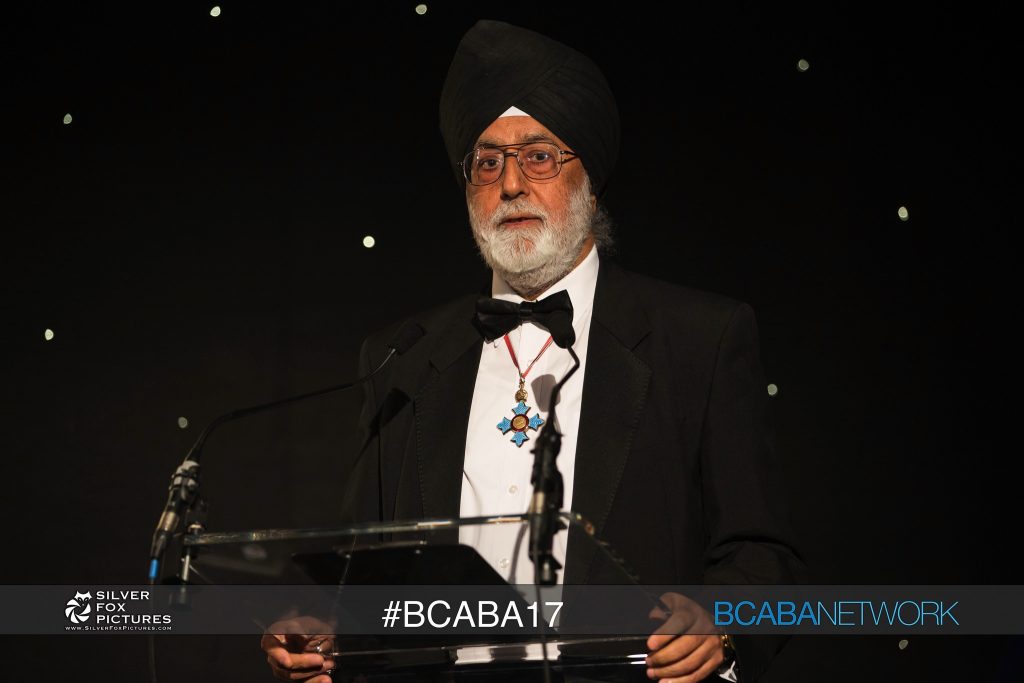 Also on the night, Angela Bir of the Ramada Park Hall Hotel was awarded with BCABA's title of 'Business of the Year' and 'Businesswoman of the Year'. Celebrations stretched even further as our chosen charity, The Midland Air Ambulance Charity, raised over £3000 in total.
The event came to a remarkable end as international artist, Jaggi Jagowal kept the festivities up, until midnight.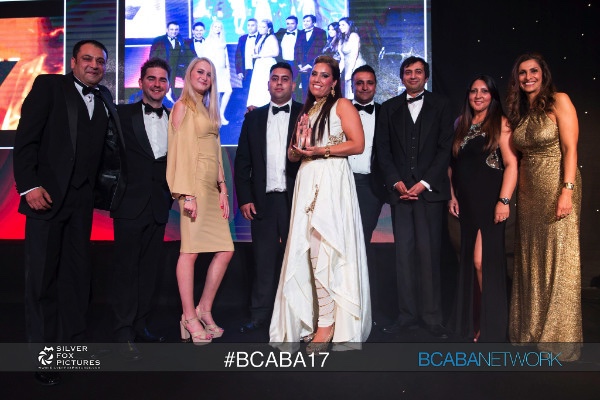 BCABA Network 2017 Business Awards – The Winners
Retailer of The Year –  Amerjit Singh, Nationwide Electrical & Security Wholesalers
Learning Business of the Year – Manjinder Sangha, Kapture8
Business Woman of the Year – Angela Bir, Ramada Park Hall
Business Person of the Year – Gurdev Singh Bahra, Specialist Metallic Coatings Ltd
Environmental Award for Business – Gurdev Singh Bahra, Specialist Metallic Coatings Ltd
Business Start Up of the Year – Kavita Bachada, Khalsa Wills
Business Professional of The Year – John Mehtam, Martin Kaye Solicitors
Community Excellence Award – Joint Winners
Randhir Singh, Midland Langar Seva Society
Chan Nandhray
Sahdaish Pall,Narinder Kooner ,Mandeep Sangu,
SWAN – Sikh Women's Action Network
Josie Kelly, Access 2 Business
Regeneration Award – Wolverhampton City Council
International Trade – David Main – Shankar (UK) LLP
Business of the Year – Angela Bir Ramada Park Hall 
Quotes from the Winners
Angela Bir Business Women of the Year and overall Business of The Year, commented, "BCABA hosted a truly great night with a number of celebrities being present at the event. I would like to thank all the board members of BCABA who relentlessly commit their time to encourage businesses to go from strength to strength and succeed to achieve their goals. It is an honour for me to receive two awards at the event and I commit myself to helping others to succeed in years to come."
Josie Kelly, Chief Executive of local Charity Access to Business said "We were absolutely thrilled to have won a Community Excellence award at the BCABA awards on Friday.  Our staff were joined at the event by our partners and Clients and we all had a wonderful evening.  Access to Business will be recommending the BCABA network to all of our Clients"
Kavita Bachada "I am delighted to have been chosen to win the award for Best Business Start Up for Khalsa Wills. This event showcases all types of businesses and gives recognition to the adage that hard work does pay off. I also congratulate all the other Finalists and Winners".
John Mehtam "Martin Kaye solicitors we're delighted to receive the award for Business professional of the year awarded to partner and employment law specialist John Mehtam. Both John and the practice are committed to expanding our legal services in the Black Country to ensure the highest levels of service delivery to Asian business in conjunction with BCABA."
Manjinder Sangha "We are delighted to have won the Learning Business of the Year and humbled that we have received such support and recognition from the BCABA Network. We hope it inspires others to keeping working hard and achieving their goals. Kapture8 hopes to continue to shape the future of education."
Sahdaish Pal Chair SWAN "We would like to thank BCABA for this Community Excellence award. The Sikh Women's Action Network (SWAN) are truly honoured to receive it. It is an even greater honour to be shortlisted amongst those that make such a positive contribution to society and people we consider to be our friends and colleagues. We are humbled to see that people have taken SWAN into their hearts and minds and this has allowed us to achieve what we set out to do in supporting and empowering women from all communities. Going forward, SWAN will continue it's mission to breaking down barriers to equality, and we will continue to be the voices of women, assisting them to access justice and the right support."
"We wanted to thank all of the people who were involved in putting together this wonderful event, and it was evident that it took a huge effort to make this night so great.
We had so much fun from the beginning till the end, with the fabulous entertainment and networking opportunity.
We can't say enough about the location, the atmosphere, the food, and of course the main event!
What a wonderful experience! Can't wait to see everyone again next year."
Randhir Singh Heer & Parmjit Singh Bahyia
(CEO & COO) Midland Langar Seva Society
Amo Singh "On behalf of the NES Team, we'd like to thank BCABA Team for a wonderful evening. Thank you for giving us the opportunity to win another award on such a big platform, without the support of our family and customers and the team at BCABA we wouldn't have been able to do this."
Chan Nandhray "A glitzy business dinner with a homely difference. The BCABA 2017 Awards brought out and recognised the business community. I am grateful to have received the Community Excellence Award but more importantly well done to the Mak and the BCABA team for showing such warm support for such a wide ranging and encompassing group of individuals."
Melanie Main
"#TheOddsAreVeryGood! The 2017 BCABA awards have come and gone. Shankar, with a 1 in 3 chance of winning were pleased to be announced as winners in their nominated category, International Trade."
The photosets can be viewed here
Silverfox Pictures Bindi Sandhu
https://www.flickr.com/photos/141074149@N03/albums/72157687304473674
Social Frames Edwin Ladd
https://www.flickr.com/photos/socialframes/sets/72157687342245733
Social Media Links
Twitter @bcabanetwork
Fb.com/bcabanetwork
Instagram bcabanetwork