 Model Citizenship award for Shazad Ali, Abdul Musavir and Haroon Jahan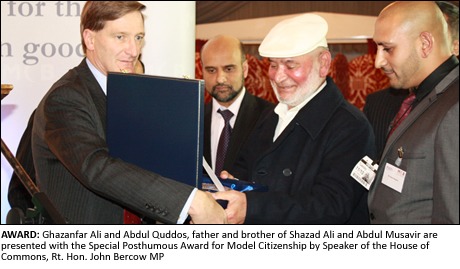 THREE men mown down and killed during riots in Birmingham in August have been honoured at the Young Muslim Beacon Awards.
Brothers Shazad Ali, Abdul Musavir and Haroon Jahan died after they were hit by a car on Dudley Road, Winson Green in the early hours of Wednesday 10 August.
The three men, who had been protecting businesses as rioters rampaged across the city, were honoured with a Special Posthumous Award for Model Citizenship.
The Young Muslim Beacon Awards, in its fourth year, is a project of the Youth Affairs Committee of the Muslim Council of Britain.
The awards are designed to recognise the very best of projects and organisations working in our communities to help improve the lives of young Muslims locally, regionally and nationally.
Speaker of the House of Commons, Rt. Hon. John Bercow MP presented the Model Citizenship award to Ghazanfar Ali and Abdul Quddos, father and brother of Shazad Ali and Abdul Musavir at a special ceremony at the Houses of Parliament.
Attorney General, Rt. Hon. Dominic Grieves QC MP paid tribute to the sacrifice of the three riot victims saying their families provided "moral leadership and exemplary mannerism" to the country.
He added: "They brought the country together and upheld the rule of law. All of us saw the riots tearing our communities apart but at the same time we were overwhelmingly impressed by the dignity of the victims' families. The award given to them is recognition of their talent and participation in the civic life of Britain and they best deserve it."
Other winners on the night included Osmani Trust, a youth and community organisation operating in the London Boroughs of Tower Hamlets and Newham, the Somali Youth Development Resource Centre which works to tackle underachievement in the Somali community, and Charity Week UK, a student led project which mobilises young people in colleges and universities throughout the country to fundraise for various charities around the world.
In his keynote address, Farooq Murad, the Secretary General of the Muslim Council of Britain said it was important to recognise the achievements of young British Muslims.
"British Muslim youth are a very special group of people," he said.
"They provide an important bridge between cultures and despite many challenges, from economic and social disadvantage to negative media portrayals in the form of Islamophobia, they are moving forward, thanks to some excellent work being done to engage and empower them to take their rightful place in Britain. It is essential that we recognise these efforts."