 Former England bowler's faith in Mahmood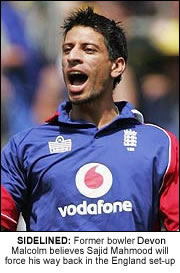 SAJID Mahmood has been urged to force his back into the England set-up by former England bowler Devon Malcolm.
Mahmood has not featured for England since their exit from the World Cup in the West Indies in April. More crucially however the 25-year-old Lancashire bowler has not been considered by new coach Peter Moore.
But Malcolm, who took 128 wickets in 40 Tests for England, said Mahmood had the ability to force his way back into the squad.
He said: "I don't believe he has been totally blocked out under Peter Moores. He has got to make sure that he doesn't believe that
"He has a lot of cricket left in him, and he has certainly got the ability to come back even stronger than ever.
"Sajid really has a massive future ahead of him. He is pretty young, but he has the advantage of knowing what the international game is all about.
"It is simple for him now. He has just got to keep going, listen to his coaches, and make sure that he keeps himself fit and healthy. He has got to be very strong to be able to bowl quickly."