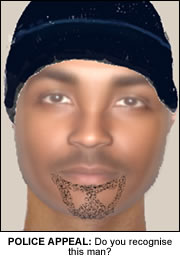 POLICE in Leciester have released an image of an Asian man wanted in connection with the attempted abduction of a 15-year-old girl.
The teenager was on her way to school last week Thursday when she was approached by two men in a white van near Longslade College.
She was offered a lift but declined and continued with her journey. But moments later the van stopped and the passenger, an Asian man, tried to force her into the van.
The teenager managed to escape and ran to her school where she informed her teachers.
The driver of the van is described as white, in his forties, of a large build with short hair and dark facial stubble greying in places. He had a gold hoop earring in his left ear.

The passenger who grabbed her is described as being slim, of Asian appearance, in his thirties, with a black goatee beard. He was wearing a black woolly hat and had 'uncared for' teeth.

The van was white courier-style van, slightly smaller than a transit. It had rust over the wheel arches and some dents in the side.

The incident is not at this stage being linked to any other incidents but officers are keeping an open mind.

Detective Constable Paul Burchell, from North Area CID, said: "We'd like people to take a close look at the man in the photograph. Do you recognise him? Did you see him in Wanlip Lane last Thursday? If so we need to hear from you.
"The victim did exactly the right thing in running straight to her nearest trusted adult. She's obviously been very shaken by the whole experience but has been very brave and detailed in her account to us and has been able to provide us with a good representation of the passenger.
"Did you see this man with this young girl? Perhaps you saw the van? We've already done house to house in the area and have spoken to other pupils at the school.

"I would encourage anyone who has any information about this incident, the vehicle or the men involved to please get in touch."

Anyone with any information is asked to contact DC 1340 Paul Burchell from North area CID on Leicester (0116) 222 2222, follow the instructions to leave a message for an officer and when prompted key in his identification number 1340. Alternatively, people can call Crimestoppers free* and anonymously on 0800 555 111.