 Pooja Shah and Nitin Ganatra Hit Silver Street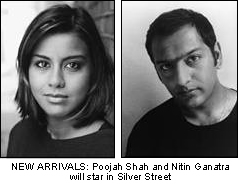 British Asian stars Poojah Shah and Nitin Ganatra are to try their hand at radio after signing up for the BBC's Asian drama Silver Street.
Shah, better known for her role as Kareena Ferreira in Eastenders, will make her radio production debut alongside Nitin Ganatra in the BBC Asian Network's daily soap Silver Street in an adrenaline packed story line involving a siege.  

Pooja plays Nalini, a young woman who is born and bred in Britain and has been married off to Deepak, played by Nitin, in order to cover up a secret disgrace she has brought on the family.  Deepak, who has been brought over from India, has been treated as little more than a house servant by Nalini's mother.  
Nalini and Deepak share a fairly good relationship. She tries to be a bit of a peacemaker between her mother and husband, but it doesn't always work.  It's not long before Nalini faces heartache and trauma when her over-bearing mother pushes Deepak over the edge. Things soon turn ugly leading to a siege at the family home.

Shah, 27, said she was "excited" about her forthcoming role.
"I am very excited to be cast in Silver Street as this is the first radio production I have been involved with", she said.
"I feel that this will be a new challenge for me and I'm looking forward to playing a new character".

She left her regular stint as Albert Square's Kareena Ferreira back in February 2005. Since then she has appeared on stage in The Deranged Marriage and has recently been filming for The Bill.

The duo will appear on the radio drama in March.