 Bollywood Interview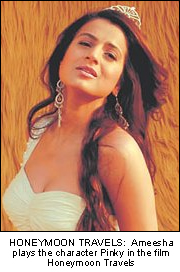 She is known to be one of the most elegantly dressed actresses, with an even more glamorous on-screen persona. Back on the big screen Ameesha Patel returns in director Reema Kagti's eagerly awaited romantic comedy, Honeymoon Travels where she plays Pinky Kapoor the newly wed who has a whacky sense of dressing and even more whacky mannerisms. The beautiful actress reveals all about one of the most outrageous characters she has played till date!
Were you the first choice for the role of Pinky Kapoor, the Punjabi girl from Delhi in the film, Honeymoon Travels?

When the director, Reema Kagti, met me she told me that even as she was writing the part of Pinky the only actress she thought would fit into the part of the typical fair north Indian newly wed was me! And I was one of the few, who was the first choice for a part, and ended up doing the role!
What was your first reaction when Reema narrated the script, and especially your part to you?

I was zapped by the concept which was woven around six honeymooning riding in a bus from Mumbai to Goa. I was equally zapped by my part. Having played glamorous part as main lead in so many films, it was the first time that I was being approached to play a character even I could have never imagined for myself. I was ecstatic by the thought, that contrary to my image as an elegant dresser she could envision me as this very loud Punjabi always attired in some outlandish clothes and accessories!
Did you ever think about not getting enough footage in a film in which there were so many characters?

Not even for a moment! Reema handed everyone a well-bound script and whether it was a Karan Khanna or Shabana Azmi, every actor had a fair deal!  There was absolutely no question of feeling insecure! And then I instantly fell in love with Pinky who is such a contrast to what I am in real life. I knew I was going to have a ball playing my part!
What was the most intriguing part of Honeymoon Travels?

The fact that it was a character-driven, and not a star-driven film. Reema has a unique clarity and vision and each actor in the film is a real character whether it was Kay Kay who like a true Bengali has his hair pasted with oil or Minissha Lamba always dressed like a prim and proper Parsi. And let me tell you in the hearts of hearts portraying this realism is what every actor craves for.    
Did you contribute to your character in any way?

Reema had designed my character as one typical north Indian girl, one who thinks that life is a Yash Chopra film and make sure she is dressed like a heroine. So much so that everyone would wait for me to step out of my make-up van and then crack up at my attire. Yes, I added my bit by telling her that this girl should be wearing hats and glares on the beach because north Indian girls hate getting tanned, and she would also be one who would take a walk on the beach in her high heels!
How was shooting in Goa for 50 days?

It was 45 degrees during the day and most of our schedules stretched over 16 hours, which had some people fainting on the sets! If we managed to have a blast it was because we were so many and each provided some form of entertainment.  Karan Khanna was always ready to strip and dive into sea to cool himself and was then quickly dragged out by Reema every time! Boman, who everyone addressed as hottie, kept everyone in splits with his wisecracks and Raima Sen was always hysterical! We had so much fun!
Which other couple's track, besides your own, is your favorite?

Shabana Azmi who plays an elderly Muslim lady and Boman Irani an elderly Catholic make the cutest honeymooning couple!
What is your take on going for a honeymoon with a package tour?

It can be a whole lot of fun, but being the romantic and private person I am I  would like to spend a lot of time alone with my new husband so no package tours for me!
What do you think the film will do for your career?

Honeymoon Travels…. is a light-weight feel good film and will not disappoint anyone. It is for a universal audience. I have done real cinema for the first time discovering many facets of my acting abilities in the process, which I hope will be recognized by filmmakers as well.  If the film goes down well with the audiences it would also be a victory for real cinema!

 
Honeymoon Travels releases worldwide on February 23
Related Articles: