 Graeme Smith warns England ace ahead of Ashes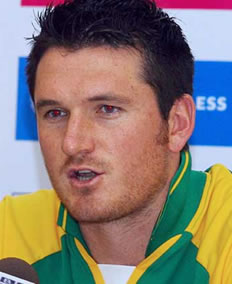 South African cricket captain Graeme Smith has warned England spinner Monty Panesar that he may face racist abuse when he takes to the field for England in Australia.
The 24-year-old left-arm spinner has been included in the England squad as they aim to regain the Ashes when the series starts later this month.
But he was warned to be on his guard by South African captain Graeme Smith (pictured right)  whose team suffered racial abuse from a section of the crowd when they toured Australia last year.
Speaking to the Guardian newspaper, he said: "
"I was chatting to some of our team just the other day and we all shivered at the prospect of what he could be in for," Smith said. "He is going to cop an unbelievable amount of abuse. I sincerely hope for everyone's sake, but especially his, that it isn't of a racist nature, but our own experience obviously leaves us with doubts.
"Hopefully Monty can become a bit of a folk hero. I can see how that might happen. But if he is selected instead of [Ashley] Giles at the beginning of the tour then the noise levels when he comes on to bowl, or even just fields the ball at mid-on, will be close to unbearable. I dread to think of him fielding on the boundary."
South Africa went public about the abuse they received in Australia after shouts of 'kaffir' – a derogatory term used against black people in Southern South Africa – were made from the stands.
The ICC has recommended bans for spectators caught racially abusing players – a move welcomed by Smith.
"It's good if they are fined or banned, or locked up would be better," he said. "I just hope they are seriously well prepared for the worst eventuality. Then hopefully it won't happen."