 Bollywood Film Reviews with Manish Gajjar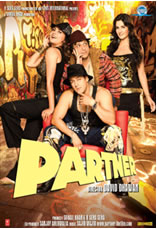 Director:
David Dhawan
Cast: Govinda, Salman Khan, Katrina Kaif, Lara Dutta, Dilip Tahil, Amey Pandya
This romantic comedy focuses on a 'love guru' by the name of Prem (Salman Khan) who charges a fee for his services.
A legend in his own right, Prem has helped countless of men in wooing the women of their dreams.
Since childhood, Prem has always understood a woman's nature and so he chooses to unite lovers and earn a living from it as well.
Life takes an interesting turn when he coaches his a client by the name of Govinda.
A meek guy by nature, Govinda is smitten by the beauty of Katrina Kaif, the rich and famous daughter of an industrialist.
It is at this point that Prem meets his match in the person, of beautiful and gorgeous Naina (Lara Dutta), a professional journalist.
Prem, being the ultimate professional bachelor, suddenly finds himself deliriously in love with Naina whose biggest scoop could very well be the unmasking of Mumbai's most famous love guru.
Starring the stud and super cool Salman Khan, Partner has been filmed in Dubai and Canada.
Directed by David Dhawan, Partner is heavily inspired by the Hollywood flick, Hitch.
Bhavna Mistry, spokesperson of EROS International based in London, confirms this film will be this summer's biggest money spinner at the UK box office.